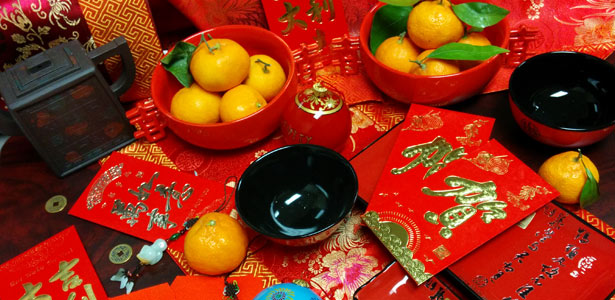 With the arrival of the Lunar New Year on January 28th, Chinese all over the world celebrates another new year and the arrival of spring.  It is a time of family reunion and renewal of life as another new and hopeful year is welcomed in joyful celebrations and festivities.  At Mrs. Lin's Kitchen, we too, join in the fun in welcoming the lunar year of the active and amusing Rooster. With a frank, honest, open and loyal personality, Roosters are also known to be very observant and hardworking.
---
Year of the Rooster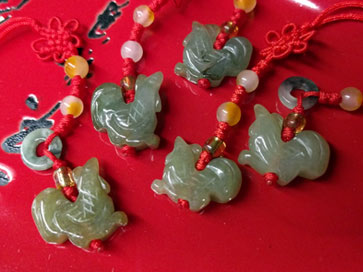 The Rooster is known as very observant and hardworking. They are also the center of attention amoung crowds and are known to be beautiful and attractive.
Celebrate the Year of the Rooster by decorating your home with bright red colors, beautiful Chinese Tableware, vibrant Red Origami for lucky mesages in Calligraphy, and several other lucky items to bring in the New Year. Don't forget about the traditional Red Envelopes to hand out as well!
Years of the Rooster: 1933, 1945, 1957, 1969, 1981, 1993, 2005, 2017, and 2029.
---
Red Envelopes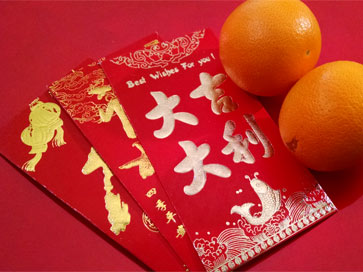 In Chinese tradition, lucky Chinese red envelopes are given to celebrate special occasions such as weddings, child birth, success in school or at work, and during festivities such as Chinese New Year. Money are placed inside red envelopes and given to family members and friends during these occasions. For this Lunar New Year, choose our set of Six Special Message Coin Decorated Red Envelopes.

Each envelope features a lovely gold colored octagonal shape with a hollow square center, complete with an attached Chinese coin displaying a classic burnished finish. In addition to this traditional design, each individually decorated packet displays a different greeting, including well-wishes for New Year's and words promoting good fortunes and safe seasons. For simpler design, our Lucky Chinese Red Envelopes are Scented with sandal wood fragrance. This packet of red envelopes come in a set of ten and features subtle swirling designs and strokes with a blank surface on the back which is perfect for penning a few words of congratulations and well wishes.
---
Tableware for Chinese New Year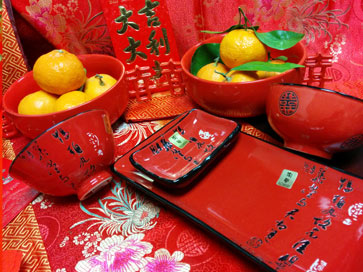 During the Chinese New Year season, families often get together for what is known in Chinese culture as the reunion dinner. On this night, family members from all over the country, even all over the world, get together and enjoy time together as a family.  With popular dishes like Fish, Chicken, and Suckling Pork to symbolize abundance, you will want to bring out a special set of tableware for this special occasion. Our Chinese Calligraphy and Poem Collection stylishly come together in black, white, and a touch of red, which is the main color used during the Lunar New Year as a symbol of luck, protection and prosperity. Don't forget to compliment everything with a beautiful Red Table runners and utensils like our Fortune Cookie Chopstick Rests and Red or Black Chopsticks for everyone. Don't forget to get all the cookware you need for a grand Chinese dinner too!
---
Chinese New Year Decorations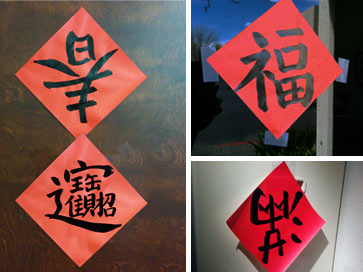 Looking to do some decorating for the Lunar New Year? You will need Chinese Calligraphy to create your Chinese Lucky scroll, which is displayed by doors to welcome in good luck for the New Year. With your family and friends coming to visit during the holiday for a special reunion, surprise them with a fully decorated home filled with delicious traditional Chinese dishes displayed on our hand made Chinese Calligraphy and Poem Collection. After the reunion dinner, sit and chat and enjoy hot tea with beautiful Yixing Teaware, while the children play with firecrackers and sparklers.
---
Chinese New Year Ornaments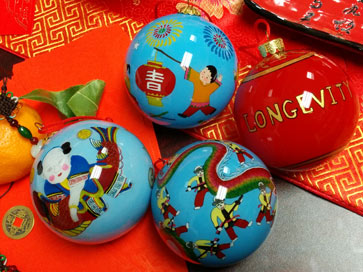 Don't forget about decorating your home in beautiful Eglomise Glassware that are perfect for celebrating the creative Year of the Monkey. These beautiful ornaments represent festive times during the Chinese New Year as well as wishing Longevity for the New Year. Make it a family tradition to decorate your home with these treasured gifts which will be brought out every new year for generations.
---
Chinese Favors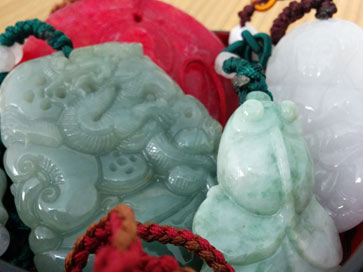 Looking for the perfect Good Luck Gift to place into a Lukcy Red Envelope? Or maybe you are looking for a perfect small gift to wish for luck for the New Year? These small talismans and charms are perfect gems to cherish and hold for a lifetime.