With your wedding day coming up, you'll want to give your guests some amazing and unique wedding favors to remember your special day by. Here at Mrs. Lin's Kitchen, we've come up with a few wedding favor ideas to help give your guests a pleasant surprise. Check out some of our most popular wedding favors below!
If you need help finding the perfect gift for the newlyweds or if you're looking to fill your registry with wonderful products, check our Wedding Gifts & Registry page, where you can access our gift registry page as well as get tons of ideas for gifts and registry items!
We know that you might have a lot of guests at your wedding, making the costs of wedding favors seem substantial. We are happy to provide a volume discount for your order if you purchase over $250 of one or two or our products. If you have any questions, feel free to email us at support@mrslinskitchen.com for more information.
---
Chopsticks & Chopsticks Pouches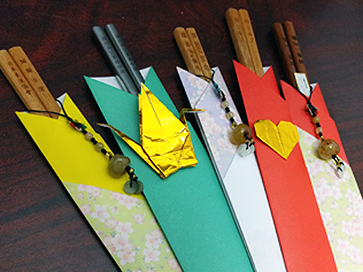 Get creative with your wedding favors through origami! You can make your own origami chopstick pouches to put chopsticks in, making the wedding favors all the more meaningful since they were crafted by your hands. These origami chopstick pouches are simple and easy to make, and to make it even easier, we've created a video that you can follow along with to make these beautiful pouches. We also have a large variety of origami paper designs available, so the amount of designs you can create is endless! For a finishing touch, consider adding one of our many small charms to each pouch.
If you are tight on time but love the thought of having chopsticks as wedding favors, you can also place the chopsticks in any chopstick bags or boxes that we have available.
We have more than 500 chopstick designs available here at Mrs. Lin's Kitchen, and several of these designs are under $1, making them the perfect wedding favor option for those on a tight budget. If you're willing to treat your guests to something even more special, we also provide services for personalized engraved chopsticks, which are one-of-a-kind and will be an incredibly special reminder of your wedding day every time your guests use them. As this engraving service may take some time, please contact us as early as possible and our representative will help you figure out the time frame we can get the personalized chopsticks to you in time.
---
Sauce Dishes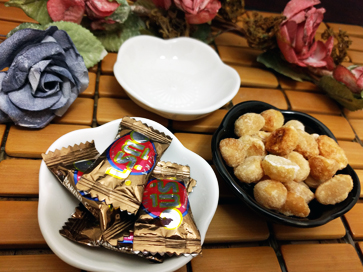 Do you plan on leaving out treats as wedding favors for your guests? We've found that serving treats on beautifully designed dishes that your guests can take home is a great wedding favor idea! Sauce dishes are both beautiful and functional as wedding favors, and your guests will love to have a long-lasting reminder of your special day. Place candies, peanuts, or other small gifts in our floral treat dishes, which come in a variety of colors. Whether you have a set wedding theme or not, you will be sure to find the perfect wedding favors in our large selection of sauce dishes.
If you need an idea for packaging these wonderful little dishes, we recommend buying round tulle from your local craft store to wrap the wedding favor in. To finish it off, write you and your fiancé's name on a beautiful ribbon and tie it around the tulle so that the little favor is ready for your guests to take home and cherish!
---
Chopsticks Rests and Small Fortune Gifts


For a meaningful and special day, why not send your guests home with significant and symbolic wedding favors? Our fortune cookie and crane chopstick rests are small gifts packed with meaning. Fortune cookies are known to carry good fortune and wisdom, while cranes represent good fortune, longevity, and a long-lasting marriage. Small enough to fit in elegant boxes or organza bags from your local craft store, these wonderful chopstick rests can be sent home with personalized favor tags for your guests.
Whether you and your fiancé are animal lovers or love the symbolism of cherry blossoms and cranes in Japanese culture, our wide variety of chopstick rests is sure to have something meaningful and beautiful for your guests to take home.
---
Handheld Folding Fans


If you are having an outdoor wedding or you know your wedding guests are anticipating the hot summer months ahead, consider giving out some exquisite handheld fans as party favors for your guests to take home and use on those blazing summer days. Whether you love the vibrant colors on the Springtime Butterfly and Cherry Blossoms Folding Fan Set or the elegance of the Cherry Blossoms in Moonlight Folding Fan Set, the beautiful designs on these convenient folding fans will be sure to impress your guests. Whether your guests want to display these wonderful fans in their homes or if they simply want to put them in their bags to use whenever it gets too hot, these functional and gorgeously designed folding fans are guaranteed to be something your guests will absolutely love to take home.
---
Storage Tins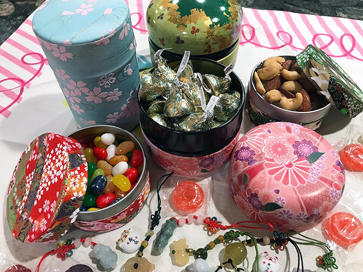 Leave your guests with stunning and practical wedding favors by giving them each a gorgeous little storage tin. Wrapped with age resistant washi paper, these storage tins all feature exquisite designs that will leave your guests amazed and elated to have received such a beautiful gift from you. These small tins are perfect for holding candies, nuts, change, jewelry, or any other small trinkets, making them a functional and long-lasting gift that your guests are bound to have a use for. Add an extra layer of meaning by putting a small charm in each tin so that your guests will be welcomed with a wonderful surprise when they open it.