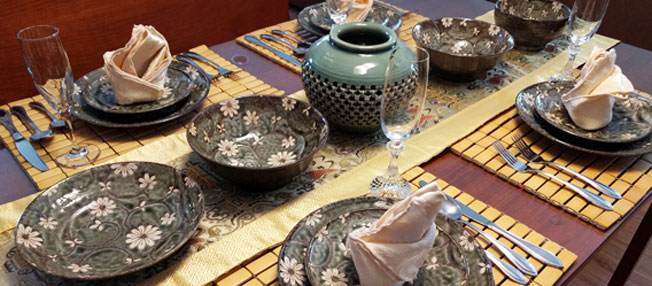 Holidays means lots of family and friends will be getting together to enjoy festivities together! Plan your holiday dinner and holiday decor in your home with beautiful and unique tableware for your family gatherings.
---
Tableware Settings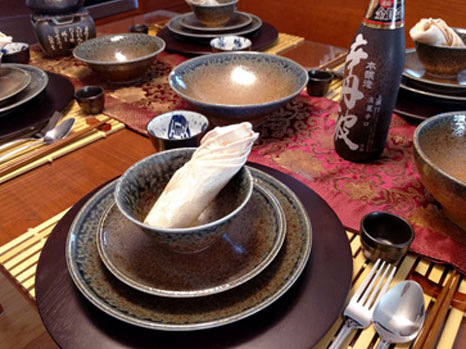 Have your family talking all year round about your extravagant dinner setting and meal!
For classic winter colors, the Blue and White Japanese Parasol Iillusion, Dark Blue Plum Blossom, Royal Blue Sakura, and the Blue and White Modern Spiral collections are a classic blue and white which makes it easy to match with your winter wonderland decorations. With a snowy winter night, these beautiful collections will accent the beautiful scenery outside.
If your holiday decorations are more on the warmer side, our earthen collections like the Pale Blue and Earthen Crackled Sand, Moss Green, Serene Meadow of Cosmos, and Rustic Dark Green, Blue and Cream Karakusa will be the perfect kind of dinnerware for your holiday party.

---
Platters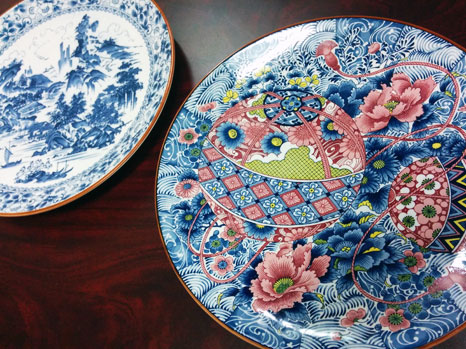 Choose vibrant and unique Asian inspired works of art for your main courses this holiday season. Asian Serving Platters are ideal for adding a touch of creativity to your dinner table with both eye-catching and simplistic designs to make your center dish or appetizer look even more appealing. These large platters are large enough to serve main courses like turkey or holiday ham, appetizers like cheese and crackers or stuffed mushrooms, and delicious salads on while also providing vibrant colors to your dining experience. You can bet that your dishes will be unique and a topic of conversation among your family.
---
Decorative Tablerunner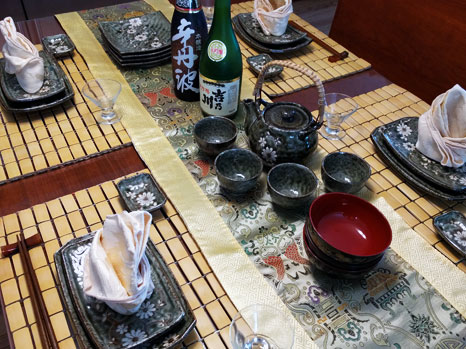 Make your dining table stand out even more this holiday season with decorative tablerunners. To stick with more classic holiday colors, our red tablerunners like the Auspicious Red Buddha's Hand Floral Asian Style Table Runner and Red and Gold Lucky Floral Motif Chinese Table Runner will be the perfect match with their vibrant colors. Explore around with other colors as well that can be used to decorate a table holding holiday decorations or small Christmas trees.
---
Christmas Origami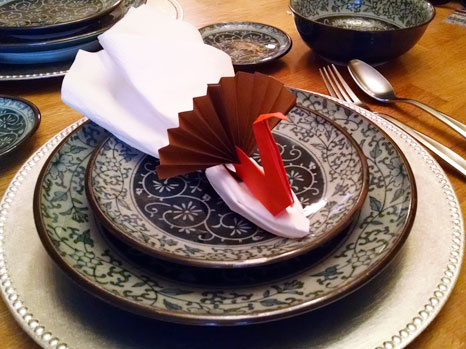 Get creative this holiday and bring family and friends to make origami papercraft for your home this holiday. Make playful snowmans, small Santas, snowflakes and more to decorate the Christmas tree in too! Make it a fun family tradition to make your own ornaments to display all season.
---
Bowls with Lids for Leftovers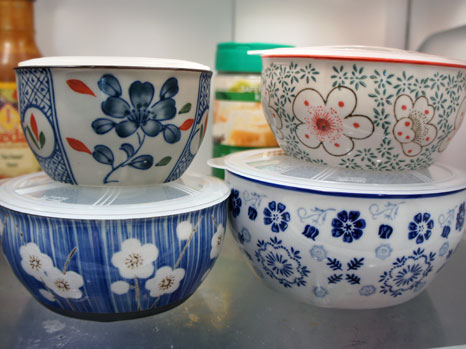 Did you over prepare this holiday and have a lot of leftovers after everyone has gone home? Mrs. Lin's Kitchen has large selection beautifully designed tupperware thats perfect to take leftover lunch to work or school in style. With elegant selections like our "Early Spring Plum Blossoms Blue and White Ceramic Bowl with Microwavable Lid" or for ones that stand out more, the beautiful "7-1/4 Inch Large Sky Blue Cherry Blossom Ramen Bowl With Lid", these useful bowls can easily be stored in your fridge with the lid on. These bowls are also microwave safe for easy heating up.