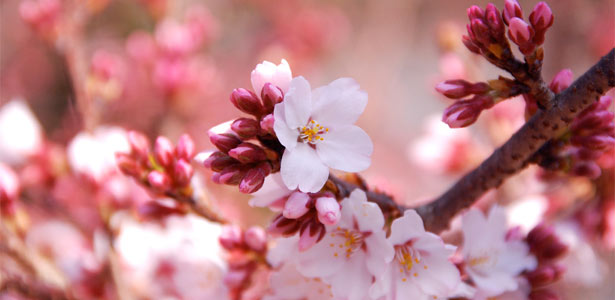 Spring has now arrived, which means beautiful Cherry Blossoms are starting to bloom! Decorate your home with this beautiful short-lived flower, which is also known as "Sakura" in Japanese. Cherry Blossoms Motifs are widely seen in Japanese Tableware and even have festivals all over the world dedicated to Cherry Blossom viewing!
---
Our Cherry Blossom Tableware Collections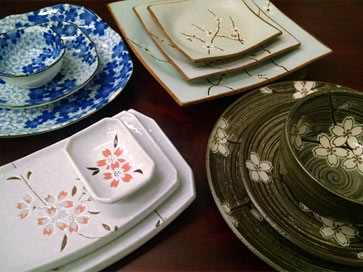 At Mrs. Lin's Kitchen, one of the most popular motifs for Asian Tableware is the Cherry Blossom Motif tableware. For expressive tones that will make your dining table stand out, the Royal Blue Sakura Collection, which features dark blue cherry blossom motifs, the very popular Cherry Blossom Collection, in light blue hues with delicate white cherry blossom branches, the Green Cherry Blossom, featuring bold shimmering green cherry blossoms set against a mixture of a light blue and white background, and the Spring Forest Cherry Blossom Collection, with its bold earthen forest green colors with a vibrant white vibrant cherry blossoms, will definitely catch your guests attention and will be the main conversation piece!
For a more subtle tableware collection that still features cherry blossom motifs, the Minimalist White Cherry Blossom Collection and the Peach Cherry Blossoms on White Collection will easily match with any other tableware settings and still give that extra "finishing touch" to the delicious dishes you present atop of them.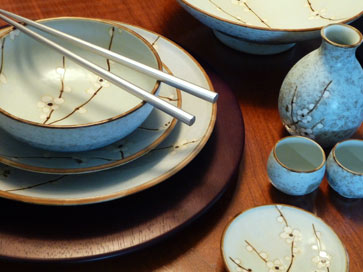 You can never go wrong with Cherry Blossom motif tableware as a gift as well for anyone that loves asian motifs or Japan, so these Tableware pieces will also be great gifts for weddings, birthdays and other special events.
---
Colorful Cherry Blossoms Chopsticks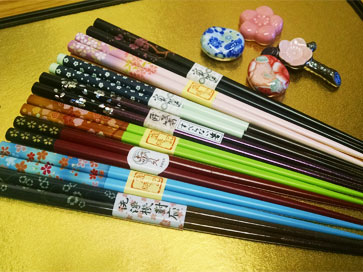 Learning how to use chopsticks or are you seasoned enough to want your own unique pair of chopsticks? For spring time, Cherry Blossom motif chopsticks are the perfect set to welcome in the fresh season. From vibrant pastel shades like the Spring Blossoms Chopsticks to darker shades like the Black Cherry Blossom Chopsticks, we have a wide selection in multiple colors for everyone. Don't forget to accompany your chopsticks with a Chopstick Rest like the Cherry Blossom on Branch Chopstick Rest!
---
Cherry Blossom for Tea Time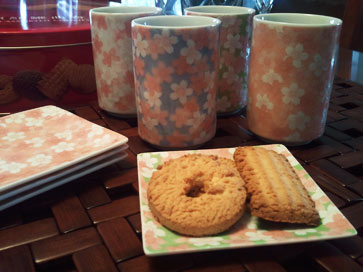 When it comes to cherry blossom viewing, you can't forget about bringing some drinks to have an even more joyful time! Even if you can't make it so a Cherry Blossom viewing event in your town, bring the cherry blossoms to your home with our beautiful Cherry Blossom Motif Tea Sets and Sake Sets that will definitely welcome in a fresh new look to your dining table.
Decorate your picnic blanket with beautiful and bright pastel colored treat dishes like our Light of Spring Cherry Blossom Square Japanese Dish Set of Four which is perfect for baked goods and mochi. Don't forget to accompany them with some delicious tea in the matching Light of Spring Cherry Blossom Tradiotnal Japanese Tea Cups Set for Four.
---
Enjoying Sake with Cherry Blossoms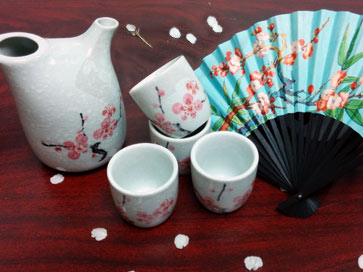 A great tradition for the Japanese is to bring friends, family, and collegues to Cherry Blossom Viewing festivals where they gather around a large blanket or tarp, enjoy food, and of course...drink some sake! Get together with your loved ones to enjy some warm sake under these beautful blooming trees along with a cherry blossom motif sake set.
---
Decorate your home for Cherry Blossom Season


If you're not looking to expand on any more tableware in your home but would still like Cherry Blossom decorations for spring time, then check out our several Cherry Blossom motif giftware items! Kokeshi Dolls are the perfect conversation piece for homes like the Charming Red Cherry Blossom Kimono Japanese Kokeshi Doll which has a beautiful little girl in a cherry blossom motif yukata. For more practical and useful items, the Lacquered Black with Pink Cherry Blossom Motif Japanese Bento Box will make a great Jewelry Box for all of your precious jewelry.
Cherry Blossoms are one of the most treasured flowers in Japan that only beautifully bloom for a short amount of time showing how fragile and short life can be. The Japanese don't see this as a sad event though, but rather a time to take the moment to appreciate life and it's beauties, remembering how precious it is. By bringing cherry blossoms into your home, you are welcoming the long lasting impression of cherishing life. This lasting impression is perfect as a gift also for newlyweds, anniversaries, and special events like Mother's Day.