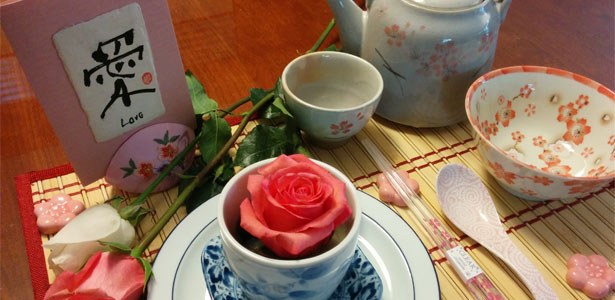 Looking to surprise a special someone with a romantic tableware setting and gift this Valentine's Day? Our wide selection of Asian Tableware as well as adorable pink or red Good Luck items will be the perfect gift that they will also love all year round. Go with a pastel lovely pink scheme of Asian Tableware accented with pink Cherry Blossoms and pink roses, or go for something more passionate with dark colors decorated with Red Roses. Whether this is your first Valentine's together or another one of many, a pleasant tableware setting or adorable meaningful gift will definitely let your loved one feel even more special.
---
Dinner Setting
When it comes to creating the perfect dinner setting to surprise your loved one, you can go far with pink lovely hues or decorative with floral vibrant designs. Either way you choose, our unique Asian Tableware will be sure to surprise them. Don't forget to bring out their favorite sake in a unique Sake Serving Set too!
---
For Her

When it comes to buying a gift for your wife or girlfriend, why not surprise her with a bright scheme this Valentine's Day filled with flowers and Cherry Blossoms? From pastel shades of pink decorating beautifully detailed Asian Tableware to adorable pink Cherry Blossom Motifs on our Good Luck Items like Maneki Nekos, Darumas and Women's Accessories like our Paper Wallets, we have a wide selection to choose from. If she also loves to wear jewelry on those special date nights, uniquely hand made Jade Necklaces and Pendants will also be a great accessory for her.
The Perfect Gifts
Jewelry & Jewelry Boxes
Asian Dolls, Paper Wallets & Women Accessories
---
For Him
When it comes to finding a gift your husband or boyfriend will cherish, surprise him with something useful that he can relax with after those long days after work. From handmade Yixing Mugs to his own personal Travel Chopsticks to use anytime, he will definitely love some time to relax after a hard day's work. If you're feeling a little more bold, invite him for a drink with a brand new Sake Set which you may enjoy together for a romantic night.
Unique Mugs, Cups and Sake Sets

Travel and Unique Chopsticks
---
Gift Sets for Two
Want to give something really meaningful this Valentine's Day? Why not put your heart into writing a song, making a personalized playlist, or gathering several photos of you and your loved one from the many years you have spent together? With our Designer CD-R's you get a beautifully designed CD which is perfect to hold your photos, music, and more on a colorful and fun disk which you can cherish for a lifetime. These beautiful CDs also come with a greeting card to write a little special note as well. If you're looking for something to enjoy together, why not get yourselves a beautiful Tea Set to enjoy a fresh brew of your favorite tea together. Huddle up together in a warm blanket on a chilly date night with a beautiful tea set accompanying the both of you to keep you warm as well. For newlyweds or a couple just starting out together, a Maneki Neko or Daruma Doll will be the perfect gift for a new home, providing fortune and luck, as well as helping to set goals you both want to reach together.
---
For Those In Search For Lover
Having a hard time looking for your soul mate or going through a difficult time in your relationship? Full of wonder, these small talismans are the perfect little good luck charm tp easily keep around in your pocket, wallet or purse. Each wishing for luck in love and relationships, these small lucky charms will hopefully give you some encouragement in your journey to find the perfect companion.