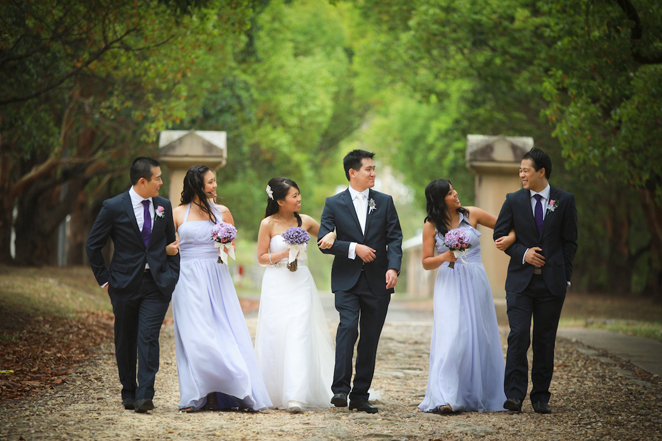 Are you having trouble finding the perfect gift for the newlyweds? Or are you looking for terrific items to put on your wedding registry? Mrs. Lin's Kitchen has a variety of fresh and marvelous products that will make the Asian dining experience available to any newlyweds in their new home. We have a wide assortment of tableware gift sets that are excellent presents for couples and beautiful additions to the newlyweds' dinnerware collection. However, aside from our sets, we have listed a multitude of product suggestions for exceptional gifts and registry items below!
For more ideas on what you think newlyweds might need, check out our Asian Kitchen Guide, which will let you know the essentials of an Asian-inspired kitchen. We also have a Wedding Favors Idea Guide for soon-to-be married couples to get inspired with ideas that guests will absolutely love to take home and remember your special day by.
---
Cranes: Symbol of Unity in Marriage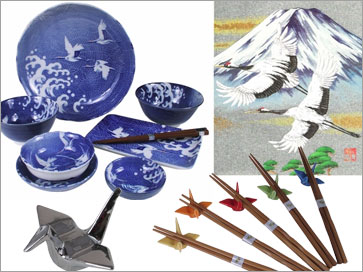 The crane, or tsuru, is highly regarded in Japanese culture. Cranes are thought to be symbols of good luck and longevity, since Japanese legend has it that cranes are mystical creatures that live for a thousand years. As cranes only have one mate through the entirety of their lifespan and are extremely loyal to their partners, they also are seen to be symbols for the unity and lastingness of marriage. Consider giving some amazing traditional gifts such as the crane bento box or the crane soup bowl to wish the newlyweds a long, love-filled marriage while also adding incredible pieces to their tableware collection. Likewise, all the pieces from our Cranes In Flight and White Waves Collection make for stunning wedding gifts or tableware components to put on your registry!
---
Red, Gold & Double Happiness: Colors and Symbols for Traditional Chinese Wedding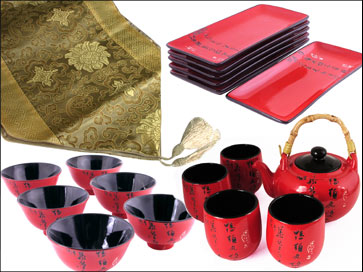 Tap into Chinese culture with wedding gifts that hold deep symbolic meanings through their colors, Chinese characters, and designs. In Chinese culture, red is the traditional bridal color and represents good luck, joy, longevity, and prosperity. Wish the newlyweds a happy and fruitful marriage with our Red and White Double Happiness Mug or add an extra layer of meaning to your gift of money by putting it into a traditional red envelope. Another important color in Chinese culture is gold, which represents wealth, completeness, and luck. If you are thinking of performing a traditional tea ceremony at your wedding, complete it with a Gold Plum Blossom Yixing Teapot Set, with plum blossoms that represent inner strength and unyielding courage. To top it off, any item from our Chinese Calligraphy and Poem Collection makes for a classic addition to your wedding registry or a meaningful wedding gift!
---
Gifts of Asian Kitchenware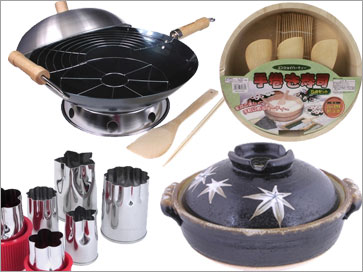 If you are looking to equip your kitchen for Asian-inspired meals or know that your newlywed friends will find certain Asian kitchenware useful, you've come to the right place! We have a wide assortment of Asian kitchenware, ranging from Chinese wok sets to sushi making kits. Make sure the newlyweds are fully prepared for any delicious Asian meal they aspire to create by exploring all the cookware and kitchen accessories available. If you are looking to create a modern Chinese kitchen but don't know where to begin, check out our simple guide of must-haves for a complete Asian kitchen.
---
Gifts of Asian Tableware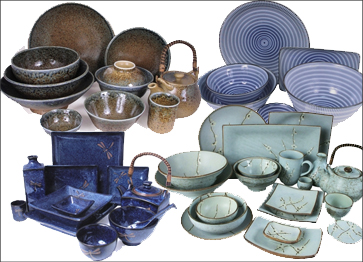 Without a doubt, newlyweds are going to need some brand new tableware for their new home. Our large variety of tableware collections is sure to have the perfect style for every married couple to put on their registry or receive as a gift. Each unique collection has a certain charm and design that will make dinner parties or meals at home all the more special. Whether the newlyweds are going for a down-to-earth look they can get from the Pale Blue and Earthen Crackled Sand Collection or if the newlyweds love the traditional and symbolic nature of the Cherry Blossom Collection, Mrs. Lin's Kitchen provides a wide array of tableware collections for everyone!
---
Mrs. Lin's Kitchen Gift Registry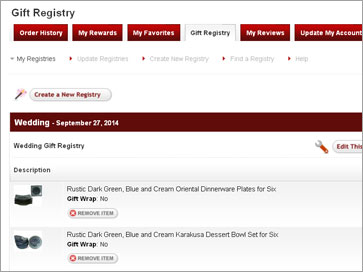 From us to you, congratulations! Now that the date is set, it's time to figure out what you would like your guests to purchase for you and your fiancé to fill your new home together! Our gift registry is user friendly, allowing guests to find products you are interested in quickly and easily. You can plan months ahead and add, edit, or delete products from your registry at any time. To start, make an account on our Gift Registry page and browse our products to find everything you need for your new life together. Whether you're looking to equip your kitchen with new cookware like our famous Chinese woks or you want to add some beautiful Asian tableware to your home, we have a multitude of Asian products for you to choose from and make your home unique!