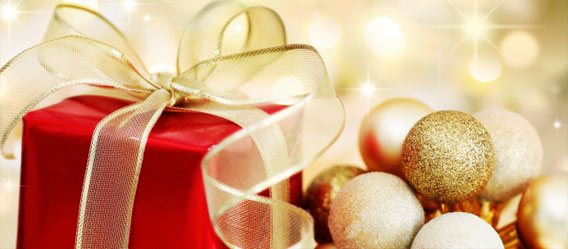 As another year comes to an end, there are so many reasons to celebrate. It is once again the time to share our love and joy with those closest and dearest to us. This year for our November holiday guide, we have hand-picked a few of our favorite items for you to share your love and joy with those you love best for all seasons.

For that Special Someone†
This year to show your special someone how much he or she means to you, here are some of our favorite picks this holiday.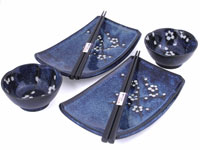 Dark Blue Plum Blossom Appetizer Plate Set† $43.95†
Surprise your loved one with this gorgeous sushi plate set complete with two curved rectangular sushi plates, two beautiful sauce bowls and two pairs of quality wooden chopsticks in a beautiful deep shade of blue and featuring gorgeous plum blossoms in white.†† This sushi plate set is perfect for a romantic sushi dinner for two. Complete the gift with a homemade sushi dinner, warm sake, and then some cuddling by the fireside .† With the motif of plum blossom, the symbol of beauty and perseverance, this dark blue plum blossom appetizer plate set is a romantic way to enjoy dinner all year round.†††
†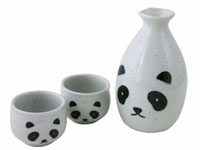 Minimalistís Panda Ceramic Sake Set for Two $43.95†
Charming and adorable, this makes a fun gift for sake lovers.† Settle down to a cozy night with warmed sake served in this adorable panda sake jug and two matching panda sake cups.† Raise your glasses to another blissful year with this cute sake set glazed to a smooth glossy perfection.† Celebrate the holidays and countdown to another new year with this fun sake set for two.†
†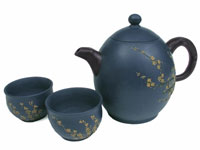 Plum Blossoms on Blue Yixing Teaset for Two $50.45†
An elegant gift for the tea lover, this plum blossoms on blue tea set comes complete with a yixing clay teapot and two matching tea cups, each featuring a unique blue and delicate motifs of golden plum blossoms.† Delight your loved one with this charming tea set that is sure to pleasure tea connoisseurs.† Yixing clay tea wares are renowned worldwide for their delightful brewing properties.† Complete with a built in tea infuser, this yixing tea set is the tea loverís dream come true.†††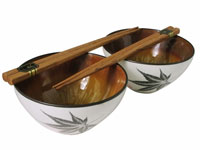 Amber Glow Japanese Maple Chopsticks and Rice Bowl Set†$29.95†
A meaningful and thoughtful gift that is at once useful and poetically symbolic, this Amber Glow Japanese Maple Rice Bowl set comes with two rice bowls and two pairs of chopsticks.† Featuring a simple yet tasteful design of Japanese Maple leaves in a minimalistic black against a classic white complemented with a warm amber glow design on the interior, this rice bowl set is a practical and charming gift idea.† In Asian culture, offering gifts in pair signify completeness, double happiness and couple-hood.†††
---
For Mom†
To show mom your love and appreciation this holiday, here are some of our favorite holiday gift ideas that will be sure to bring a smile to her face.†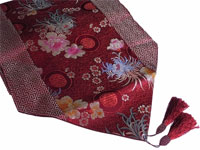 Gorgeous Maroon Lucky Chinese Floral Motif Table Runner $45.95†
This lovely handmade table runner is an enchanting addition that is sure to brighten up momís dining table.† Featuring beautiful Asian floral designs in an exotic maroon and showcasing the lucky Chinese symbol of the five fortunes, this table runner is a fantastic way to surprise and delight mum this holiday.†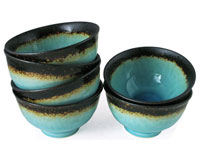 Turquoise Sky and Earth Ceramic Japanese Rice Bowl Set for Six† $78.35†
Nothing makes mom so happy as having the family over for dinner.† This lovely turquoise sky and earth ceramic Japanese rice bowl set comes with six gorgeous rice bowls featuring a vibrant and elegant design reminiscent of clear crystal lakes by majestic mountains.† Beautiful and functional, mom will never have to worry about finding stylish dinnerware to serving dinner on when the family is over for dinner with this charming bowl set.†††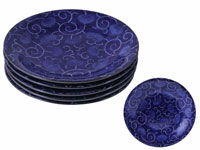 Dark Blue Moon Flower Japanese Dinner Plates Set for Six†$57.05†
In a lovely cobalt blue, this Japanese dinner plates set features the intricate and elegant design of moon flowers in white and pale blue.† Show mom your appreciation for all those delicious home cooked meals this holiday season with this quality dinner plates set.†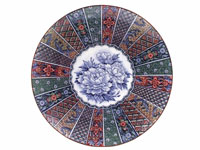 White, Blue, Green, Peony Porcelain Japanese Platter†† $44.05†
For the hostess in the family, this unique and gorgeous porcelain Japanese platter is perfect for serving appetizers and finger food items at the next family party.† With a beautiful array of Japanese karakusa designs bordering a detailed artwork of Japanese peony, this Japanese platter is unique and exquisite and is the perfect gift for moms who love throwing dinner parties.†††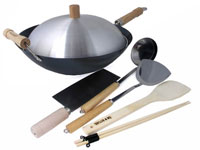 Seven Piece 14 Inch Pre-Seasoned Flat Bottomed Chinese Wok Set $68.25†
Complete with seven pieces, this flat bottomed Chinese wok set has all that is needed for cooking up a mouthwatering feast.† Surprise mom with a new kitchen cookware this holiday season with this great wok set.† Better yet, sit mom down and cook up a stir-fry dish of your own to pamper mom with.††







---
For Dad†
Shopping for a gift for dad can sometimes be difficult.† Here at Mrs. Linís Kitchen, we have hand picked out a few of our favorites that we know dad will enjoy.†††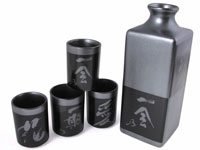 Silver and Black Japanese Calligraphy Sake Set $52.25†
In a classic stylish silver and black, this calligraphy sake set is stylish without being showy.† Perfect for the sake loving dad, this sophisticated sake set is great for serving sake chilled or warmed, however dad likes his sake.† With four matching sake cups, dad can invite friends over for an afternoon of fine sake and reminiscing old times.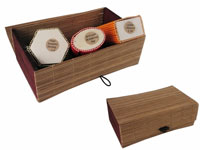 Assorted Asian Loose Leaf Tea Gift Set† $17.95†
With three different flavors of premium tea leaves, this gift set is perfect for tea loving dads. Featuring lychee hibiscus tea, two selections of artisan blooming teas, and four seasons oolong tea leaves, this is a great way to delight dad with this tea-licious treat that he can enjoy in all seasons.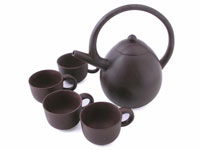 Elongated Handle Yixing Tea Set $56.45†
A stylish and quality yixing tea set is sure to bring hours of enjoyment for tea loving dads.† Featuring yixing clay tea wares in a classic dark brown, dad can enjoy quiet contemplative afternoons in his study or in the garden with a quality pot of tea with friends and family for a charming afternoon of get together.†††





---
For the Kids†
If you are looking for something other than toys for the children this Christmas, Mrs. Linís Kitchen offers some fun and creative holiday gift ideas.†††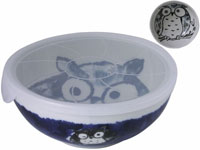 Adorable Lucky Owl Japanese Bowl with Lid $15.95†
For the college student, this is a fun and functional gift idea.† Featuring a cute owl design (a symbol of luck in Japanese culture), this large Japanese bowl is made from ceramic and comes with a plastic lid with fitted clasps on the side, this is a multi-function gift that can be used as a bowl, as storage for leftovers and as an environmental friendly and healthy lunch box.†††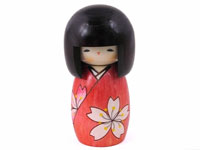 Kokeshi Doll in Red Cherry Blossom Robe $45.15†
Teach your children to appreciate the traditional craft of Japanese kokeshi dolls and start them off on a collection of these unique traditional craft items.† Kokeshi dolls are traditional craft items that are each uniquely hand crafted.† This attractive kokeshi doll is a charming and distinctive gift that can broaden your child's cultural exposure.†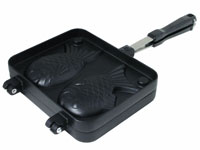 Stainless Steel Medium Taiyaki Pan $31.95†
Making Taiyakis together is lots of fun and is a great way for your children to explore their creativity together with you in the kitchen.† Come up with new and interesting fillings and recipes that you can think of and enjoy tasty afternoon treats together with this fun and user-friendly Taiyaki pan.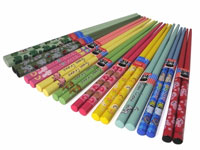 Multi-colored Adorable Animals Child Chopsticks Set of Ten† $9.95†
Want to teach your child to master the art of using chopsticks this holiday season?† This is the perfect gift.† With ten colorful and fun pairs of user-friendly and safe children chopsticks, your child can have a fun pair of chopsticks for every day of the week and with extras to spare with this cute and fantastic chopsticks set.†††
---
Stocking Stuffers†
Check out some of our fun stocking stuffers suggestions for unusual and surprising stocking suffer ideas.†††
Lucky Charms† $1.25 to $9.35†
Check out our fun collection of lucky charms.† They make great cell phone, luggage, bag, flash drive decorations, and can bring good fortune to your friends and loved ones this holiday season.†††
Japanese Washi Earrings $13.55 to $16.85†
Unique and fun collectible earrings for the ladies make great stocking stuffers.† Crafted with distinctive Japanese patterned washi papers, they come in the shape of butterflies, origami cranes, cats and flowers.†††
Chopsticks $1 or less†
Inexpensive, yet fun and practical, this is one of our top picks for stocking stuffers this holiday season.† Surprise friends, classmates, co-workers with a simple yet useful gift this holiday with charming yet inexpensive chopstick options.†††
Greeting Cards $7.85†
You can send your love and holiday wishes even to those afar with our charming pop-up holiday greeting cards.†
All of the items featured above, except for stocking stuffers items, come in presentable boxes and is perfect for gift giving. Mrs Linís Kitchen also offers gift wrapping service. For a small fee, you can have gifts for your loved ones wrapped in enchanting oriental paper, trimmed with ribbon, with a gift card attached. We also ship worldwideósend your warmest holiday wishes to loved ones wherever they are.
Happy Holidays†
During this special season, Mrs. Linís Kitchen wishes everyone a warm, festive and blissful holiday season.† Let the joyous feasting, celebration, enjoyment and fun of the holidays begin!
OUR 2014 NEWSLETTERS

November 2014 Holiday Guide: Joy for all Seasons
Traditional Chinese Culture: An Introduction

Japanese Noodle Galore!

Spam Musubióthe Uniquely Hawaiian Snack
Tanabata Festival:† Reunion of deities and making of wishes
Onigiri—Japanese Rice Balls: Traditional Convenience Food
Owls in Japan—Symbolism and Myth

Takoyaki: The street food at the Crossroad of history

White Day: The Reverse Valentine's Day
Chinese New Year: Flowers of Celebration

Chinese Hot Pot: Gathering around Cooking