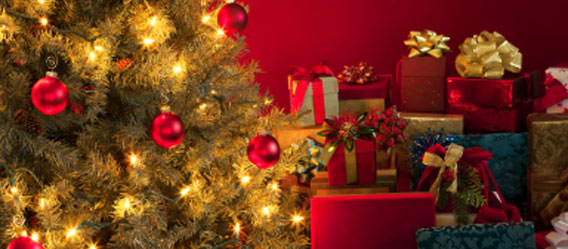 This holiday amidst all the gift giving and feasting, take some time to think about the health of yourself and your loved ones. With all this discussion going on about health all over the news and the media these days, it is hard to ignore the topic. That is why, this year, we chose a focus on giving the gift of health to yourself and those around you. After all, as they say, health is a priceless gift, what better present can you get for your loved ones this year?

The Restorative Gift of Tea
Tea has always been valued highly in Asia for bringing health, happiness and wisdom, but only in recent years have researchers in the West been catching onto some of the amazing health benefits that tea can offer.

Studies have been said to show that tea reduce risks of cancer, heart disease, diabetes. They have also been said to encourage weight loss and lower cholesterol, and bring mental alertness.

There are many types of tea available and each boasts of different and unique health benefits. Of all the various kinds of tea, green tea is especially well known to contain a high amount of antioxidants and is believed to reduce risk of various kinds of cancer and to lower cholesterol and induce mental alertness.

Matcha or Green Tea Powder $22.65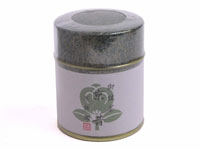 Matcha refers to finely powdered green tea. It is commonly used in the tea ceremony in Japan. It is also sometimes used to flavor food such as mochi and ice cream. This lovely metal tea canister contains quality matcha and is designed with an airtight seal for keeping the matcha fresh for a longer time. Full of healthy antioxidants, matcha makes an excellent gift this holiday season for loved ones to stay warm and healthy.

Sencha Matcha Blend $14.95
Imported from Japan, this lovely floral design tea canister contains a mixture of green tea leaves and finely powdered green tea--matcha. Containing quality tea leaves and matcha blend, this makes a delightful gift for tea lovers.

Genmaicha--Green Tea with Roasted Rice $8.15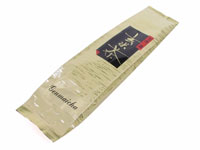 Aromatic with a delightful taste of roasted rice, genmaicha is a gem for tea lovers. Extremely fragrant with an interesting flavor, this is a great stocking stuffer for friends and family.

Teawares to Enhance Taste and Health
Beyond the gift of tea, teawares that enhances health and the flavors of tea also make excellent gifts for tea lovers and anyone enjoys a good cup of tea and the benefits that tea can bring. These unique tea wares are designed to enhance both the health benefits and taste of tea.

Purple Peony Porcelain Airtight Tea Canister $20.55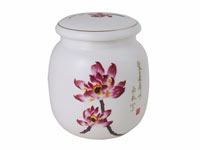 Keep tea leaves fresher for a longer time with this charming porcelain tea canister. With a beautiful painted motif of purple peony blossom intricately depicted in water color, it also features Chinese calligraphy in gold and is a charming and functional gift for tea lovers. An airtight seal lid keeps out moisture, air, and sunlight that damages tea leaves. This makes an excellent gift for tea loving friends to help them keep their best tea leaves fresh and flavorful and retain their health benefits for a longer time.

Gorgeous Cherry Blossoms and Birds Porcelain Tea Cup with Strainer $26.15

With a graceful design of cherry blossoms in bloom with birds perching, this porcelain tea cup is a charming gift and a wonderful reminder to always take time to slow down, relax and have a great cup of tea. After all, a positive mental state fosters good physical health. This makes an ideal gift for tea lovers who enjoy an occasional solitary cup of tea at work or at home.

Mystical Crane in Reed Jade Green Porcelain Japanese Teacups Set for Six $72.05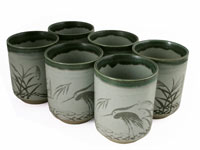 This is the perfect holiday gift for the host or hostess. With six lovely matching tea cups, it is the ideal present for tea lovers who enjoy company. In a lovely shade of jade green and cream and featuring an elegant design of Japanese cranes, this tea set is crafted from quality porcelain and is a great way to enjoy the great taste and health benefits of tea.

Modernist's Horse Yixing Handmade Chinese Teapot $50.25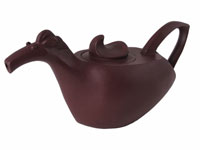 Loved by tea connoisseurs worldwide, yixing tea ware is known to produce rich and unique brews. This Yixing handmade Chinese teapot is a stylish and contemporary twist to an old tradition of quality clay tea ware, and makes a wonderful gift for tea lovers with a taste for the distinctive and modern.

Charming Dark Brown Yixing Clay Tea Set for Four $56.65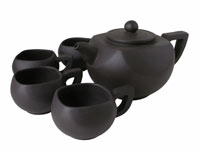 Featuring a simple and elegant design, this yixing clay tea set is a gorgeous shade of dark brown, and is an excellent way to enjoy a great cup of tea with close friends. Share the health benefits of tea with those closest to you. This Yixing clay tea set is stylish and enhances the quality of brews.

Moderate Enjoyment of Alcohol
Recent researches have shown that light and moderate drinking of alcohol can actually help prevent heart diseases. One or two glasses of alcohol a day are thought to help reduce the risk of heart diseases. For those who enjoy an occasional glass of alcohol to complement their dinner, sake can also make a great dinner pairing. Depending on the season and the type of sake, sake can also be enjoyed both chilled and warmed.

Our delightful sake sets are beautifully designed and help make drinking sake a relaxing and enjoyable experience. They make excellent gifts for sake lovers this holiday.

Charming Blue and White Japanese Karakusa Sake Set for Two $32.95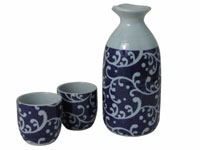 This porcelain sake set comes with two matching sake cups and is a gorgeous gift for sake lovers. Great for serving sake whether the preference is for sake chilled or warmed, this lovely karakusa sake set is an excellent gift to toast good health for the coming year.

Spring Viewing Japanese Painting Cherry Blossoms Sake Set for Four $42.15
Showcasing the scenic depiction of a cherry blossom branch in bloom, this charming sake set comes with four matching sake cups and is a lovely reminder of spring's arrival this winter holiday season. A gorgeous gift for the poetic soul.
Eat Fresh and Simply
One's health is largely a direct result of the diet we choose. That is why it is crucial to have a balance diet with fresh ingredients prepared simply for one's health. A great way to make a fresh and healthy meal is with sushi dishes. With little oil and fats, sushi dishes make healthy meal and snack ideas.
Sushi Lovers' Essential Sushi Making Kit $33.35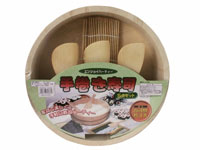 A great starter kit for sushi lovers, this kit contains all the essential tools for making your very own sushi rolls. Including a sushi oke, sushi paddles and a sushi mat for crafting healthy and delicious sushi, this is a fun and functional gift idea.
Wooden Three-Piece Japanese Sushi Mold $27.95
A fun and innovative gift, this sushi mold makes three pieces of sushi each time. Get creative and whip up some healthy and tasty signature sushi with this easy to use sushi mold.

Cookware
Is having a healthier diet that includes more vegetables and seasonable ingredients part of your New Year's resolution? If so, these great cookwares make wonderful gifts for yourself and your family. Give the gift of health this holiday. Make tasty, healthy and environmentally sustainable dishes and share them with your friends and family.

10-1/2 Inch Cast Iron Nabe with Trivet $41.75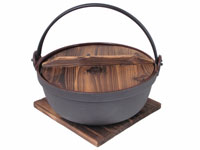 For the friend or family member you know who loves to cook, this cast iron nabe pot makes a thoughtful gift. What can make a better gift than a hardy and functional nabe pot that can create warm and hearty broth and hot pot dishes for friends and family that is at once delicious and great for health?

7 Piece 14 Inch Single Handle Pre-Seasoned Flat Bottom Wok Set $65.95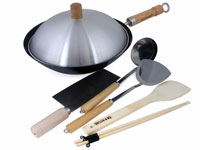 The perfect gift for the chef in your family, this flat bottom wok set comes with all the accessories needed to whip up a variety of great Asian dishes. Whether you love stir-fry, pan seared, or steamed Asian dishes, this wok set is a great tool for making the dishes you love. Woks are not only great for stir-frying, they are highly versatile and easy to use. Make healthy and delicious food with this great wok set.

Large Floral and Cream Color Clay Donabe Pot $80.95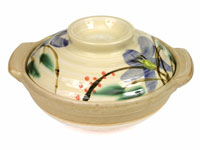 Make warm and tasty claypot dishes with this Japanese donabe clay pot. Claypots are great for stewing, steaming and sautéing. It keep nutrients intact even as food items get cooked. Keep out the winter chills and stay healthy with hearty donabe, or claypot rice and dishes. Perfectly sized for friends and company, it is a great gift for the health conscious.

Healthy Holidays
From all of us at Mrs. Lin's Kitchen, we wish everyone a joyful and healthy holiday season. Good health and prosperity to all. Happy holidays!
OUR 2013 NEWSLETTERS

Give the Priceless Gift of Health this Holiday: Mrs. Lin's Kitchen 2013 Holiday Guide
Traditional Japanese Soups 101
Asian basics for New Apartments
Popular Japanese Characters and the Cult of Popularity
Exotic Fruit Kingdom- Journey into the World of Asian Fruits



Light Asian Snacks

Way of the Gods:  Shintoism in Japan

The Chinese concept of Yin and Yang
Onsen:  Japanese Hot springs—Enjoyment and Etiquette
Lunar New Year 2013: The Year of the Snake

Nabemono - Japanese Hot Pots

NEWSLETTER ARCHIVES

2013