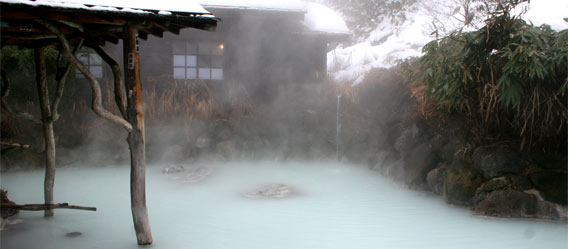 Onsen is the Japanese name for hot springs.  Onsens are widely popular in Japan.  As a country located along active volcanic fault lines, Japan is rich in beautiful sceneries and hot springs.  Hot springs are an important part of Japan's domestic tourism, as every year thousands of Japanese tourists visit onsen towns that have grown up around these hot spring areas.  Sometimes an onsen town can have up to thirty hotels and ryokans that serve thousands of tourists during peak seasons.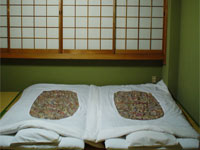 For those unfamiliar with ryokans, ryokans are similar in concept to bed and breakfasts.  Guests at ryokans sleep on traditional Japanese mats, in Japanese style rooms and are served tasty traditional Japanese meals during their stay.  Unlike bed and breakfasts, ryokans are not a cheaper alternative to hotels, but are in fact the more traditional way that people enjoy a rest from their hectic lifestyles in the city.  The more popular ryokans are also often more expensive than onsen hotels in the same vicinity.
Onsen towns are generally located in the countryside, where city folks can take a break from their hectic lives and slow down and relax and enjoy a comforting and healing soak in the hot springs.  Typically, they are located along volcanic veins where geothermal hot spring waters are available.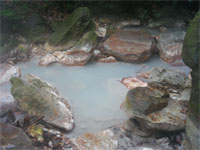 Onsens use water from geothermally heated springs, and legally, they are required to have 19 designated chemical elements.  It is believed that onsens not only help people relax, but that they have healing and health properties. There are many types of onsens, and each onsen (sometimes there can be several onsens within the same ryokan or hotel) can each boast of a variety of healing properties.  Depending on the chemical properties of the heated water in each onsen, they are said to bring about a variety of health effects.  Most typically, they are divided into indoor and outdoor onsens. 

Outdoor onsens as its name suggests is located outdoors, often paired with breathtaking view of surrounding sceneries, outdoor onsens are the traditional way in which people have first enjoyed onsen in Japan, but today, many indoor onsens are built along with outdoor onsen options at well established onsen hotels and ryokans.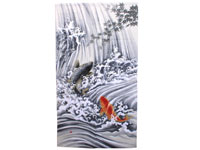 Although traditionally, men and women bathed together in the same onsen, today, onsens are established separately for men and women. Norens typically hang outside the entrances of onsens denoting that they are meant for men or women.  Usually, onsen hotels and ryokans have set time during the night in which the onsens are upkept and maintained to ensure that the onsens are of the right temperature and the right chemical balance.  It is common practice for hotels and ryokans to switch the norens denoting gender for onsens after this maintenance period so that onsens dedicated to a specific gender earlier in the day is now switched to allow guests of the other gender to try out both onsen bath rooms of the hotel.  Sometimes, hotels and ryokans also have private onsen rooms available to guests at additional costs.  These private onsen rooms allow for added privacy, although, one of the enjoyment of onsen as it was traditionally established is the community property of bathing together with others.
There is often the discussion of "naked communion" a Japanese concept that talks of relaxing, becoming comfortable with one's body, breaking down barriers, getting to know other people in a homey environment of ryokans. 

Enjoyment and Etiquette

On entering an onsen, visitors usually first enter a changing area.  At the changing area, visitors place their personal items and clothes in baskets in cubby shelves.  Once completely undressed, visitors then clean themselves at bathing stations before entering onsens.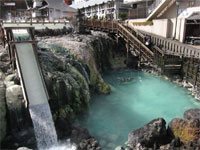 Cleanliness is of extreme importance in onsens.  Visitors to onsens are expected to wash themselves at the bathing areas before entering the onsens.  The bathing areas are equipped with faucets, stools, wooden buckets and provide shampoo, conditioner, soap and sometimes even facial wash and moisturizers for patrons.  Visitors are expected to wash themselves and to rinse thoroughly before entering onsens.  Entering the onsen unwashed or with soapy skin is considered rude.

For female guests with long hair, onsen establishments also usually provide shower caps as hair is generally seen as unclean.  It is seen as polite for one to tie up ones' hair and to wear a shower cap when entering onsens.

No swimsuits or clothing articles are allowed inside onsens, although some more modern onsens similar to water parks in concept require guests to wear swimsuits in their co-ed baths.

It is common to see onsen guests bring a small wash towel with them into the onsens.  This small washcloth is sometimes used for some slight washing and soaking inside the onsen.  Often it is used to preserve one's modesty as one moves from the bathing area into the onsen and from the onsen back to the changing area.  Be warned however, that not all onsens allow guests to immerse this washcloth into the onsen water.  Depending on the onsen establishment, soaking and rinsing of washcloths inside the onsens may be prohibited as it is sometimes seen as unclean.  In the latter cases, people generally fold up the washcloth and place it on their heads as they soak in the onsens.

Rowdy behavior is unacceptable in onsens as they are generally seen as places for quiet relaxation for other guests.  Roughhousing and splashing in the onsen is seen as rude.  Soft conversation is acceptable, although most onsen visitors are usually enjoying a quiet moment soaking in onsens.  Some onsen establishments also play some ambient music in the background to help guests relax and enjoy their onsen experience.

It is common to hear of cases in entertainment news of Western pop stars and celebrities being denied entry into onsens because of presence of tattoos, the same is still true today, as tattoos are still heavily associated with the yakuzas—the crime syndicates in Japan.  People with tattoos are often denied entry into the general onsens, although they have the option of using private onsens within onsen hotels and ryokans.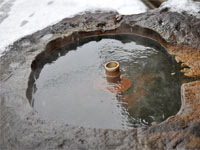 In general there are several types of onsen and depending on the location of onsen town and the onsen establishment, it may be possible to enjoy these various types at the same onsen bath.  Sulphur onsens, sodium chloride onsens, hydrogen carbonate onsens and iron onsens, each type of onsen have its own health properties.
The temperatures of these onsens are usually very hot and temperatures are typically noted on signs.  Some onsens are hotter than others, and one can choose how one decides to proceed with soaking in these different onsens.  If the water is too hot, try to enter slowly and to refrain from moving too much in the water.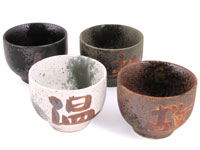 Typically, visitors enjoy the onsen by soaking for a short while in the onsens and then leaving to take a shower before entry.  After this second soak, shower is not recommended, as it is believed that it would lessen the onsen minerals on one's body.  It is also a good idea to hydrate oneself after a soak in the onsen.  Many onsen establishments provide drinking water to guests at the changing areas.  Sometimes guests like to have traditional green tea after a soak in the onsen.  At some ryokans and hotels, traditional drinks with health benefits are sometimes also served. 
Onsens are an interesting aspect of Japanese culture, and it is highly recommended for anyone visiting Japan.  It is common for onsen guests to visit the onsens several times a day, so feel free to soak and re-soak in the onsens.  Try out the outdoor pools in the early morning and at night to experience the differences.  Some onsen establishments build outdoor onsen baths are an elevated height with impressive views and feature dramatic lighting at night. 
OUR 2013 NEWSLETTERS

Onsen:  Japanese Hot springs—Enjoyment and Etiquette
Lunar New Year 2013: The Year of the Snake

Nabemono - Japanese Hot Pots

NEWSLETTER ARCHIVES

2013
2009

2008

2007

2006

2005

2004

2003

2002

2001