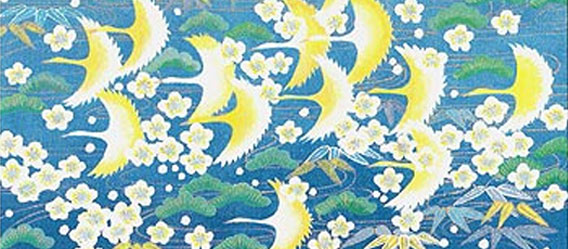 Here in the West, the symbol of the pink or blue crane signifies a new birth; in Asian cultures the elegant crane is a symbol of health and longevity, two of the most precious qualities that we hope to enjoy during our lives. Because of the prevalence of these birds in Chinese and Japanese culture and scenery, they are often depicted in famous watercolors and silk screens and through the ages have transformed into a symbol of good luck with mystical and magical properties. Many traditional art forms, including lacquerware, wood carving, fabric making, pottery and ceramics will utilize a crane motif that instantly sends a message of good luck and best wishes to the happy recipient.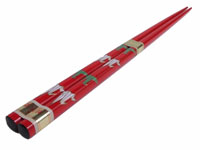 At Mrs. Lin's Kitchen, you will find a large assortment of items that include the auspicious cranes as part of the design. Ranging from elegant chopsticks, like the Gold Cranes on Red Lacquer Chopsticks to our conversation starter pieces of Crane Chopstick Rests that are found in a wide variety of colors and finishes, we make it easy for you to set the perfect table for your family and friends.
The beauty of the white crane as it soars gracefully in flight has long inspired poets, storytellers and artists from China and Japan. The ancient Chinese people revered this majestic bird and even built a tower to honor the crane as long ago as 223 a.d. which is known as the Yellow Crane Tower. It is also interesting to note that a traditional martial arts style called White Crane derives its name from this bird's qualities of graceful power and quickness as it soars through the skies.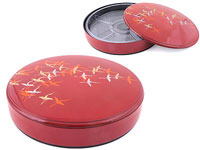 In Japan, the "tsuru" or crane is so ingrained as a national symbol, it appears on money, kimonos and obi patterns, air planes, chopsticks, religious items, government documents, etc. It is also somewhat of a trade mark for being official and of high quality. There are many positive qualities of the crane that are revered in Japanese culture, such as it's mating habit of only having one partner for life. This endearing trait has caused the crane to become a symbol for the unity of marriage and carries with it the hopes that a new marriage will last for eternity. You will often see the design of the crane on a bride's obi or kimono pattern and in the ceremonial textiles that are used at the shrines. Gifts to the newlyweds will vary, gifts of money are placed in special envelopes that might be decorated with a crane motif, and gift bags and photo cards will often depict a crane emblem as well. Mrs. Lin's Kitchen carries many unique gift ideas that are decorated with cranes, your gift will be extra special and heart felt when you choose pieces from the selections we carry, such as an assortment of tableware from our Cranes In Flight and White Waves pattern. A beautiful and practical gift idea is the Crane Motif Sushi Oke Divided Container. It can be used to serve sushi and salads, but with the removable divided container in place, it serves double duty as a server for a variety of candies, nuts, dips or cheese. Whatever item you choose that is decorated with cranes will carry with it an added bonus of good luck and well wishes.
Origami, or the Japanese craft of paper folding gave the Japanese crane it's big boost in popularity and worldwide recognition as a symbol of hope, peace, good luck, get well wishes, and congratulations. One of the first things that a student is taught in Origami is the folding of the crane. It cannot be done quickly, and there is lots of time to think or pray as the folds are made to transform the square piece of origami into the shape of a crane. It is believed that good things will come to those who have the patience and commitment to fold one thousand of these cranes, and even more good wishes result when others pour their goodwill into making a one thousand crane for someone else.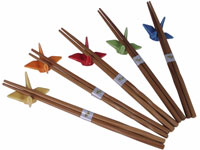 Some couples believe that folding one thousand cranes together before their nuptials will ensure that their union will be loyal and committed. There are often cascading strings of one thousand cranes found outside of hospital rooms or hanging from the trees of Japanese shrines. These are put there as offerings of healing prayer for the sick, the sight of them can also invigorate the ill by demonstrating how many people care enough about them to put countless hours into folding the cranes for their benefit.
A famous sad story is based on the story of Sadako and her quest to fold one thousand cranes before she fell victim to the leukemia she contracted from radiation exposure during the dropping of the atomic bomb in Hiroshima, Japan. She valiantly fought to fold one thousand cranes from her hospital bed as she wished for world peace, but she died before she could complete her mission when she was twelve. Her classmates could not let her desires go unfinished and stepped in to complete the one thousand cranes, which were placed in her grave with her when she was buried. As a lasting tribute to the selfless little girl's wishes for world peace, visitors to the Atomic Bomb Memorial in Hiroshima, Japan will find offerings made from complete strangers of one thousand cranes, full of their wishes for world peace.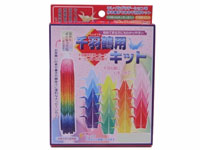 If you are so inspired to make your own one thousand crane offering, you will find that the wide assortment of origami papers we carry at Mrs. Lin's Kitchen will fit the bill. From silver or gold foiled papers of all sizes, to bright solid colors or delicate patterns; you will find all the tools you need to make cranes and more. Cascading streams of one thousand cranes look gorgeous hanging from the ceiling, but the folded cranes can also be flattened to make a pattern of fans or any shape you choose. These pictures made of one thousand origami cranes are beautiful when placed in a matted frame and make a very thoughtful and original gift.

Now that you know more about the meaning and symbolism of the crane in Asian culture, you'll find that many of the items that we carry that bear the crane motif are a perfect gift idea for a variety of occasions. Who can resist the powerful message that rests in this symbol of hope, longevity, good wishes and loyalty?

OUR 2010 NEWSLETTERS

Magical Meaning of Cranes
Chinese Chop Seal & Ink

Japanese Furoshiki and Noren

The Magnificent of Mount Fuji

NEWSLETTER ARCHIVES

2011
2010
2009

2008

2007

2006

2005

2004

2003

2002

2001


MAY WE SUGGEST:
Golden Cranes Chopsticks Box (8452)
Cranes Flying Past Mt. Fuji Greeting Card (7338)
Golden Cranes Soup Bowl (8732)