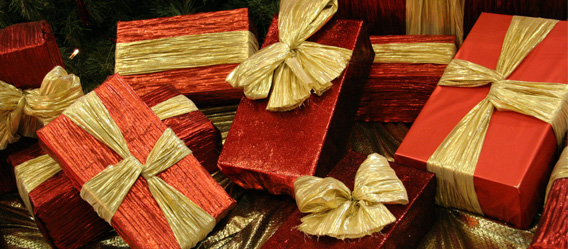 November--as the year draws to a close, it is time again during these cold months to snuggle up to loved ones, family and friends by warm fireplaces to celebrate joyous festive moments and to think back on another year that has gone by.
Beat the holiday crowd this year for gift getting. Shop early to avoid the last minute holiday stresses, and shop online to avoid the frenzied crowds. You can find the perfect gifts for the people you love in the comfort of your own home and have them shipped right to your place, all perfectly wrapped and ready to go with our gift wrapping service.
Stay Warm
With the winter months at our door steps, stay warm and keep loved ones toasty with our lovely sake sets, tea sets, and Asian cook ware. Other than the traditional option of fireplace, you can enjoy exotic tastes even as you stay warm. This year, you can spend a warm and cozy holiday with those you love by your side with our charming gift selections.
Sake Sets
With our wide selection of sake sets, you can find the perfect set to enjoy your favorite sake drink to warm up this holiday season. Check out what our editor's picks are:
Green Dragon Sake Jug Set for Six $42.15
In a charming jade green, with six sake cups, it is a charming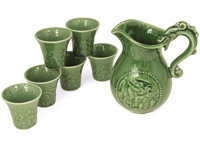 way to host a small gathering with friends to admire the winter moon and watch snowfall outside your window, or the Christmas city lights, wherever you may be located. Make it an addition to your own home, or a gift for loved ones, either way, it is a classic and charming choice.
Blue Moon Sake Set for Four $24.75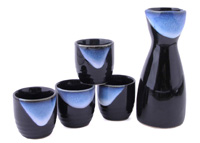 (Editor's Top Pick)
For the sake lover, this makes the ideal gift for the winter months. Elegantly simple in design, yet stylishly minimalistic, with an artist and abstract touch. It is a tasteful way to enjoy your best sake. Complete with a charming sake bottle and four gorgeous matching sake cups. What better way to stay warm than with this charmer.
Earth Below Sake Set $26.75
An earthy wash of brown and green sets this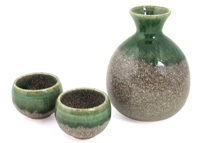 sake set apart from the rest. With an earthy and simple design that will complement a wide variety of tastes. It makes a wonderful gift for friends and family. Reasonably priced, it is a great way to surprise loved ones with a quality gift without burning a hole in your pocket.
Maneki Neko Sake Set for Four $31.45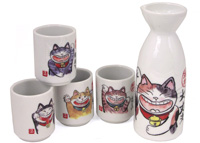 Throw a party to look back on the past year and the celebrate the arrival of the new with this cute Maneki Neko sake set and usher good fortune your way for the coming year. With an adorable and fun design, this sake set features the Japanese good luck symbol-the Maneki Neko. You can be certain that good fortune will come your way, even as you toast the end to a great year.
Tea Sets
Commonly said to be the most widely consumed beverage after water, there are scores of tea lovers out there who will testify to the taste and health benefits of tea. Delight your tea loving friends with our charming tea sets this holiday season. See what our editor's picks are this holiday season.
Breaking Wave of Kanagawa Tea Set
(Editor's Top Pick) $65.45
Our editor's top pick for tea set is this beautifully rendered tea set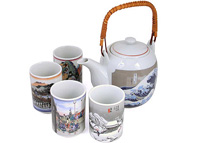 featuring the famous works of the renowned Japanese wood block print artist Ando Hiroshige. Featuring some of the best of his works, including the most famous of his works, the "Breaking Wave of Kanagawa" this tea set is a must have for Japanese woodblock art fans.
Cherry Blossom Tree Yixing Tea Set $42.45
A charming collector's item and a must have for tea lovers. With this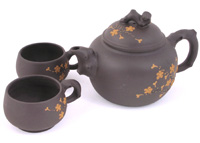 yixing clay tea set, you can stay warm while having your favorite cup of tea brewed in what is generally regarded as one of the most famous kinds of tea wares among tea connoisseurs world wide. Find out why in our newsletter.


Charming Red and Black Longevity Coaster Set of Six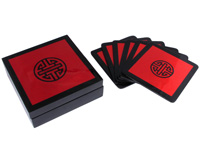 $37.95 (Editor's Top Pick)
Tired of gifting the same old tea sets to friends and loved ones? Thischarming coaster set makes a fun and tasteful companion to your Asian tea sets. Beautifully lacquered to a smooth glossy surface and featuring the traditional Chinese symbol for longevity, this makes a gorgeous accompanying gift for tea lovers, and just about anyone who likes to enjoy beverages in style.
Asian Cookware
This holiday, think outside of the box when it comes to seeking that perfect gift. For foodies, our wide selection of Asian cookware will be a pleasant surprise. Equip your or your loved ones' kitchens with unique Asian cookware. This holiday season will promise to be a warm, exotic and epicurean one.
Medium-Size Cherry Blossom Donabe Clay Pot $54.55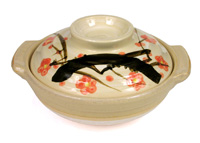 If you have never had clay pot dishes, this holiday season is the perfect time to try it for the first time. Known to be fragrant and unforgettably tasty, clay pot dishes are, as their names suggest, best prepared in a clay pot. Charming and function, this donabe clay pot will be a treat for friends and families.
Japanese Cast Iron Nabe Pot $19.75 - $52.09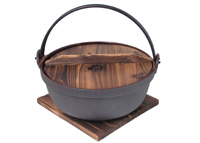 Travel across the Pacific Ocean in the comfort of your own home with this cast iron nabe pot. Nabe pots are popular in Japan, especially during the winter months, for preparing well loved dishes, such as: Shabu shabu or sukiyaki dishes - tasty Japanese hot pot dishes. Invite a few friends over and combat the winter freeze with tasty Nabe pot dishes.
Lucky Bean Cake Taiyaki Maker $54.05
(Editor's Top Pick)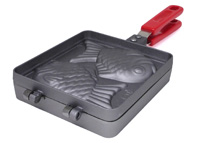 Taiyaki, is a popular Japanese street snack, a cute little pastry in theshape of a fish with a wide variety of fillings. You can create you very own taiyaki using anything from red bean, to cheese, to chocolate to custard. They are easy to make and great fun for kids. An excellent gift idea for families.
Bamboo Steamers $12.55 - $24.25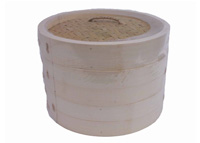 Dim Sum anyone? Authentic bamboo steamers make great additions to any kitchen. They can be used to steam a wide variety of dishes, but most specifically, they are perfect for making those delicate Cantonese dim sum dishes. Traditionally engineered to produce amazing steamed food, bamboo steamers make fun novelty gift for dim sum lovers.
Heart Warming Stocking Stuffers
Stocking stuffing this year need not be another scrounge for small useless novelty items. Here at Mrs. Lin's kitchen, you can find a variety of meaningful items that are functional and work great as stocking stuffers.
Tea Infuser $6.65
This nifty little gadget is a tea lover's best friend. You don't have to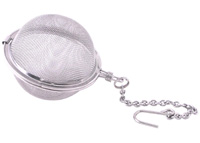 stick with tea bags all the time for fear of the mess of using loose tea leaves. With this user friendly and charming tea infuser, you can have your cup of tea and drink it. Explore what loose tea leaves can offer and not have to worry about the mess with this tea infuser.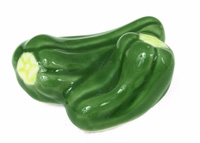 Adorable Fruits and Vegetable Chopsticks Rests $1.95 - $4.95
Simply adorable! Our fruit and vegetable chopsticks rests are the perfect ways to keep your chopsticks in place in style. It is also a great way to remind friends and loved ones to get on a healthier diet for the coming year.
Daruma Dolls (Editor's Top Pick) $6.15 - $116.25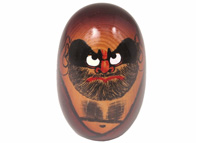 It is not too early to start thinking on your New Year's Resolution. Daruma dolls are a traditional Japanese lucky item that Japanese people use as a reminder and motivator for their goals. Daruma dolls are made without eyes. Upon the setting of a goal, the owner of the daruma doll paints in one eye of the doll, and the second eye upon completion of that goal, restoring the Daruma doll's vision. It is believed that upon giving Daruma doll his vision, he will grant your wish.
Soy Sauce Holders $3.25 - $10.95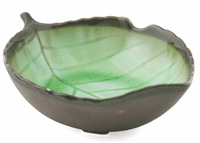 Shop our unique and stylishly designed soy sauce holders. They work great with other dipping sauces as well. Tasteful ceramic art works as well as useful piece of dining wares, what's there not to love about soy sauce holders?
Happy Holidays
Whatever you may decide in the way of gift for your friends and loved ones, at the end of the day, don't forget to relax and enjoy the festivities. From all of us here at Mrs. Lin's Kitchen, we wish you and yours a wonderful and joyful holiday season. And don't forget to stay warm!