Yakizakana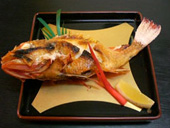 Yakizakana refers to grilled fish, which is a traditional dish in Japan, typically served with rice and miso soup. Many different kinds of fish are prepared this way in Japan. In contrast to the subtle taste of sashimi, yakizakana usually feature charcoal grills in their preparation and are commonly salted with sea salt.
In yakizakana, the entire fish is grilled in its entirety, and the result of yakizakana is moist tender meat surrounding by tasty crispy fish skin. Mackerels are typically used, but salmon, horse mackerel, needlefish, as well as cod are also commonly used.
Chopsticks are used to pick out the small bones from yakizakana. Sometimes, yakizakana are also enjoyed on bamboo sticks, typically at Matsuri—Japanese festivals, where stalls are set up and street food items can be purchased and enjoyed.
---
Chinese Seafood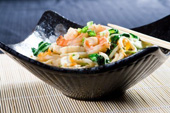 With the East China Sea, the Yellow sea and the South China Sea in the East, China also boasts of its fair share of seafood specialty dishes. Because much of China remains inland other than its eastern coasts, seafood is seen as a luxury item in China and are not as common an ingredient in Chinese cuisine, as it is in Japanese cuisine.
Reliant on freshness, Chinese seafood uses minimal flavoring, typically with only a few sauces to enhance the sweetness of seafood dishes, most commonly among flavorings are: garlic, ginger, and chili. Cantonese style of Chinese seafood, in particular, employs steaming as a method of cooking. It is believed that by steaming seafood, the sweetness and flavor of fresh seafood can be retained, as well as the succulence and moisture.
Chinese Crustacean dishes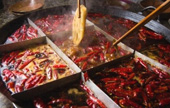 One of the most famous and well loved of Chinese seafood dishes is the drunken prawns dish. There are several variations to the way this dish is prepared. Perhaps, the most well known method of preparation is to marinate prawns while they are still alive in strong
Chinese liquor
, the white liquor (bai jiu) or the red Hua Diao jiu, or Shao Xing jiu. It is believed that through this method, prawns will ingest some of the liquor so that the flavor of the alcohol would come from within the prawns. In some versions of this dish, prawns are eaten alive. But often, prawns are boiled after marination. In other versions of the drunken prawns dish, the prawns are first boiled before being marinated in liquor. The taste of drunken prawns is said to be delicate, fresh and sweet with a note of alcohol to bring out the sweetness of fresh shrimps.
A more recent invention, the salted egg yolk crab dish employs traditional salted egg yolks, tapioca and deep fried crab to create a delicious dish that is crispy, buttery and gold brown on the exterior, yet juicy and tender on the interior. Other popular ways of preparing crab dishes include steaming with ginger, garlic and spring onion, as well as frying with black pepper. These crab dishes are often found in Chinese restaurants and are commonly enjoyed with a refreshing glass of beer.
Southeast Asian Seafood Varieties
Southeast Asia, made up of many sea bound tropical countries and small islands, also features several unique seafood dishes.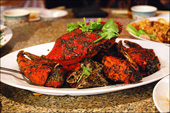 Famous in Singapore and Malaysia, chili crab is a well-known and well-loved seafood dish that some have even claimed as the "national dish" of Singapore. Using ginger, turmeric, eggs, chili oil, tomato and galangal (an Asian plant in the ginger family), chili crab is a spicy and flavorful version of Asian seafood perfect for those with a love for spicy dishes. Another well-known and unique seafood dish from Singapore is fish head curry, which is just as its name suggests, a seafood dish, featuring fish head as an ingredient. This dish is commonly enjoyed with rice. Like the chili crab dish, curry fish head is a spicy dish, and depending on the chef, it can, in some cases, exceed the chili crab in its spiciness. So if you have the ability to stomach spiciness and want to take a walk on the wild side for your next seafood crave, these two dishes are great new seafood ideas that can be found in Southeast Asian restaurants, or you can even find the recipes online to prepare these two dishes in your very own kitchen.