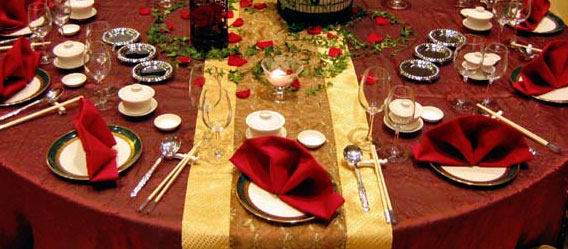 Celebrations take place year round, but most people find May and June to be the busiest celebratory months, thanks to occasions like Mother's Day, Father's Day, birthdays, communions, graduations and weddings. If you love to partake in festivities, but hate how expensive they can become, an Asian-themed party may be the way to go merry without breaking the bank.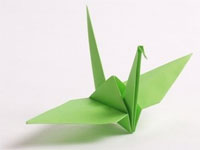 All parties begin with invitations and while store bought ones are convenient, they also lack creativity. Forego generic in favor of something more inspiring and reflective of your party theme. Origami invitations are a wonderful and imaginative way to provide party details to guests. All you need are colorful sheets of paper that can be folded into flowers, cranes, hats or other intriguing shapes. Another innovative idea is to write the details on open hand fans which can be closed and delivered when dried. Or, use a gold pen and red card stock paper tied to a pair of chopsticks with ribbon to produce the same unique effect.
Once the invitations have been sent, it's time to consider decorations. If the celebration is being held at home, decorations don't need to elaborate, plentiful or costly. Keep in mind that the traditional Asian colors are red, black and gold. A few strategically placed items will make a statement without overwhelming the room. Throw pillows slipped into our Happiness Pattern Red or Phoenix and Dragon Pillow Covers will add a nice touch, while red ribbons, a Buddha statue, large pagoda lamp or even a hanging kimono will help you create a focal point in the room. A stylish Noren hung over the doorway will separate the bustling dining area from an adjoining room where guests can converse without having to raise their voices. It will also double as hanging art, as will an eye-catching paper parasol.

The type of table you set should also assimilate with your decorating theme. Boost red or gold tablecloths with the addition of table runners from our Table Runner category or use alone to achieve just the right touch of Asian ambiance. If you're using place cards, consider our fortune cookie coin purses. Shaped like their namesake, these purses are covered in traditional pattern fabric and snap shut, making them ideal as place card holders.
Buffet-style parties are ideal if you're looking to serve a variety of foods. Because Asia is such a large area, you can incorporate edibles from different cuisines. Dim sum items such as dumplings and spring rolls make delicious appetizers, while sushi and sashimi are always crowd pleasers. If mingling with guests is a priority, order take-out and transfer food to serving platters that coordinate with your theme, such as the Red Dragon Serving Platter. Provide chopsticks for adventurous guests.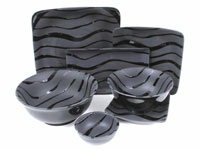 Sit down dinners are less casual than buffet-style meals, but allow you to show off eye-catching dinnerware pieces like those found in our Collections category. The Chinese Calligraphy and Chinese Poem collections will help you adhere to the red, black and gold theme, but there are so many other stunning dinnerware sets that you may find yourself gravitating toward Dark Blue Plum Blossoms or Black Waves. Coordinating sake or tea sets and sleek chopsticks will complete the mood. Include whimsical chopstick rests for a light-hearted effect.
As night falls, keep the party going by illuminating your home with one of our many Asian-style lamps. Bamboo screened and rice paper covered lamps produce a soft glow that will help tone the festivities down to just the right level. Whether you're keeping sake cups or tea cups full, now is a good time to relax with remaining guests and reflect on the day's festivities.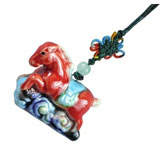 Party favors are always fun to receive, and with so many affordable choices, it's easy to give your departing guests one more reason to smile. Chopsticks tied with ribbons never go out of style, while zodiac charms, key chains, Asian fabric covered pocket planners and silk lipstick holders are sure to be a hit. And what guest wouldn't want to take home a Maneki Neko?

In all the bustle and excitement, don't forget the most important detail. Whether it's a favorite nephew graduating from college or a dear friend hitting a milestone, Mrs. Lin's Kitchen offers a variety of products you can choose from for the one perfect gift as inimitable as your guest of honor. Happy celebrating!
OUR 2008 NEWSLETTERS

Simple Feng Shui Remedies

Guide to Economical Holiday Shopping

Utamaro: Master Printmaker and Painters
Three Easy Eastern remedies

Unraveling Colors of Asia

Hiroshige: Following in the Footsteps of Hokusai

Hokusai: The Man behind the Art of Block Printing

Throw an Asian-Themed Party

Celebrating Cherry Blossom

The Seven Lucky Gods of Japan

Chinese New Year 2008 : Year of The Rat

Valentine's Day Gift Guide

All Hail the Sumo Wrestler


NEWSLETTER ARCHIVES

2011
2010
2009

2008

2007

2006

2005

2004

2003

2002

2001


MAY WE SUGGEST: