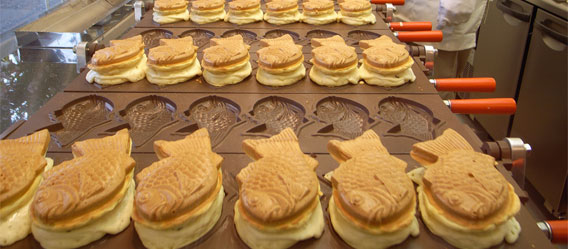 After years of covering a variety of topics relating to Asian culture, this month, we bid farewell to our monthly newsletter.  Parting is such sweet sorrow; but rest assure, we will continue to feature many interesting DIY videos and online updates on a wide range of topics to help you make your favorite Asian dishes and treats and learn all about interesting aspects of Asian culture.

For our final newsletter this month, we are going to take a look at popular street and festival food items in Japan popularly known as Taiyaki and Obanyaki.

Taiyaki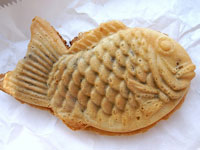 Taiyaki, literally means "baked sea breams" and are delicious Japanese pastry treats filled with tasty fillings.  Shaped like a fish, taikyakis are well loved snack items in Japan.   Traditionally filled with sweet red bean paste made from azuki beans, taiyakis today features a wide range of filling, from sweet fillings like vanilla custard, fruit preserves, chocolate, cream, to savory fillings such as cream cheese, curry, meat, potato and mayonnaise. 

History
Taiyakis were first created by a sweets shop in Azabu, Tokyo known as "Naniwaya".  In 1909, Taiyakis were first introduced.  Traditionally, Tai (sea breams) were luxury food items that were eaten at weddings because the word "Tai" brings the connotation of "Omedetai" which means auspicious.

Because Tais were too expensive for the average person, when Naniwaya introduced Taiyaki— sweet pastries that were shaped like the luxurious sea bream at an affordable price, it became highly popular. 

A children's song in 1975 about Taiyaki named "Oyoge! Taiyaki kun!" (Swim! Little Taiyaki!) made taiyaki even more popular.  Today taiyakis can be found at various street and temple festivals and is a well loved street food item.

Preparation

Taiyakis are made with batter similar to what is used to make waffle or pancakes and are poured into fish shaped mold known as taiyaki pans  with the shape of a sea bream on both sides.  Filling is added to the batter on one side of the mold grill.  It is then heated until the batter turns to a golden brown and the cake is cooked.   Ideally, traditional taiyakis should have a fragrant and slightly crispy surface complemented by a moist interior with warm fillings. 

Over the years, there have been many innovations to the traditional taiyaki.  New and inventive fillings and ingredients keep taiyaki relevant to the modern market.  Other than adding new sweet fillings and unique savory fillings, in recent years, "White Taiyakis" have also gained popularity in Japan.

White taiyakis, like its traditional counterpart, is still shaped like the classic sea bream, but unlike the traditional taiyaki that uses traditional wheat based batter, white taiyaki uses tapioca flour.  The effect is that when fully cooked, white taiyakis, like their name, still retains a white exterior.  Because of the nature of tapioca flour, white taiyakis have a much more chewy texture.   White taiyakis can be served warmed or chilled.  Some shops in Japan sell frozen white taiyakis said to taste like sherbet.

Obanyaki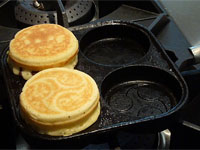 Known by various names, obanyaki is the name given to Imagawayaki in the Kansai (Southern central) region of Japan.  Similar to taiyaki, obanyakis are popular pastry snacks often found in festivals.  The name obanyaki comes from the round shape of the snack.  "Oban" is the name of old Japanese coins, and obanyaki are called baked coin for their circular shape.

Like taiyaki, obanyaki feature a thick fluffy pastry exterior made from batter and filling traditionally made from azuki beans.  In a round shape, obanyakis today features variety of fillings ranging from sweet to savory. 

History
Obanyaki was first sold near the Imagawabashi bridge during the Edo period in the years between 1772 and 1781 AD.   It is because of this original birth place of the snack that imagawayaki got its name. 

Preparation

Like taiyaki, obanyakis are created from batter in special circular obanyaki pan, much like the one used to make taiyakis.  Obanyaki batter is first poured into both sides of the obanyaki pan, filling for the obanyaki is then added to one side of the pan, and then the pan is closed and cooked over heat until the exterior turns a golden brown and the interior is cooked to a warm moist texture.

Because obanyaki are thicker than taiyaki, they have a softer moister texture more that resembles cakes more closely than taiyakis that feature a crisper exterior.  Other than the difference in texture, because of its shape obanyaki also typically feature a denser concentration of filling.
Simple to create and a wonderful treat loved by all ages, with the right tools, obanyaki can easily be made at home.  Our latest video shows how you can make your very own obanyaki.


Discovering Japanese Street Food and Yaki Snacks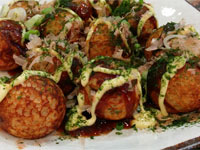 Beside taiyaki and obanyaki introduced in this month's newsletter, there are a wide variety and variations of different kinds of Japanese street food.   From sweets to savory, there are all kinds of unique Japanese sweets and treats to discover.  Check out our previous newsletters on Japanese street food— takoyaki , and Japanese yaki cooking to learn more on the topic. 






Once again, we thank all of you, our loyal subscribers and readers, for your continued support.  We hope that you have found our newsletters informative and interesting, and that they have enriched your experience and understanding of Asian culture.  We look forward to continuing to share our discoveries with you through our videos and continued online updates. 

As 2014 comes to an end, we wish all of you a wonderful holiday season, and we look forward to 2015 with excitement!  We sincerely wish all of our readers a very happy new year!  May the lunar year of the ram bring abundance of joy, happiness, and many blessings.
OUR 2014 NEWSLETTERS

Japanese Sweet Treats:  Taiyaki and Obanyaki

November 2014 Holiday Guide: Joy for all Seasons
Traditional Chinese Culture: An Introduction

Japanese Noodle Galore!

Spam Musubi—the Uniquely Hawaiian Snack
Tanabata Festival:  Reunion of deities and making of wishes
Onigiri—Japanese Rice Balls: Traditional Convenience Food
Owls in Japan—Symbolism and Myth

Takoyaki: The street food at the Crossroad of history

White Day: The Reverse Valentine's Day
Chinese New Year: Flowers of Celebration

Chinese Hot Pot: Gathering around Cooking