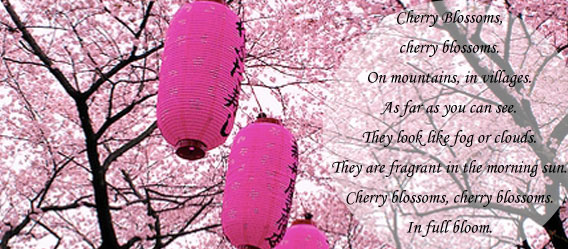 HANAMI "The Celebration of Spring"
Also known as Hanami in Japan, the cherry blossom festival usually occurs between end of March to early May during the bloom of cherry blossom trees. Hanami, literally means "flower viewing" in Japanese and in many ways that is what the activity consists of.
Every year, sakurazensen—a cherry blossoms forecast is announced by the weather bureau so that the flower viewing can be planned as the blooms usually last only a week or two.
The tradition of Hanami is several centuries old and is said to have begun during the Heian period (794-1185 A.D). Originally, plum blossoms, ume, was admired, but gradually sakura became the focus. Some older folks prefer to view plum blossoms at umemis (plum blossoms viewing), because they are generally calmer and less crowded.
Today, Hanami is celebrated outdoors. Outdoor parties and picnics are held beneath the sakura (cherry blossom) trees both in the day time and at night. Hanamis held at night are known as Yozakura, which literally means "night sakura".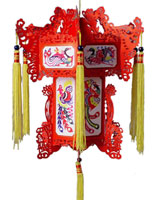 For Yozakura, many parks place temporary , paper lanterns to illuminate the branches and blossoms in the dark for their viewing and enjoyment. Some parks also place electrical lanterns for the purpose of yozakuras.
In most of Japan, because the cherry blossoms' bloom coincides with the beginning of a fiscal year and a new school year, many welcoming parties generally begin with a Hanami celebration.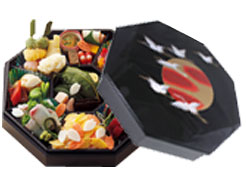 During the Hanami celebration, bentos, dumplings and other snacks are prepared, and sake is often enjoyed while admiring the cherry blossoms. It is a time of festivities, as well as a time for contemplation and the renewal of spirit.
This year, the estimated best time for viewing is said to be April 6th through the 15th in Tokyo and April 7th through the 16th in Kyoto.