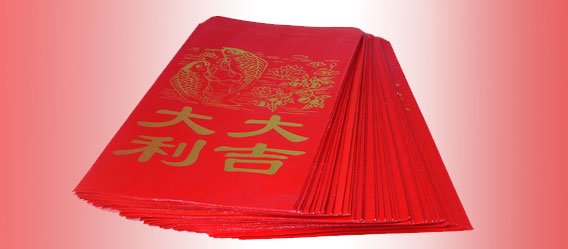 The act of giving gifts on special occasions is not unique to Asia; however, the custom of presenting monetary gifts in red envelopes is a distinct tradition most commonly observed in Eastern and Southeast Asian countries. To help celebrate the arrival of 2011, Mrs. Lin's January newsletter explores the colorful history and some of the most common cultural practices associated with these special gift-giving packets.

Red, the color used for these envelopes of well-wishes and good fortune, is an historic symbol of luck, protection and prosperity in China, Vietnam and other Asian countries. This highly revered color is commonly used throughout the East as a decorative theme for such joyous occasions as weddings, holidays and birthdays.

In addition to their unmistakable color, red envelopes typically have a rectangular design that allows them to hold similarly shaped paper money as well as coins. These lively money holders are frequently decorated with festive prints, including gold colored characters for fortune or wealth, embossed coin patterns and auspicious animals like fish.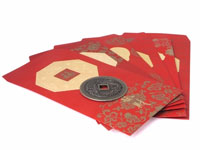 China is considered the birthplace of the red envelope tradition. While the exact date and location of the centuries-old custom is unclear, many experts cite its likely connection to yāsuì qián, a practice dating back to the country's Qing Dynasty (1644-1912). As a main part of this ancient gift-giving ritual, elders would thread red string through the round hollow middles of coins; a design still found among contemporary Chinese coins. This string of money was then offered to children for protection against evil spirits.
Today, yasui qian (or New Year's money) is the phrase most commonly used to describe the longstanding custom of elders, married couples, or senior associates giving money to younger unmarried relatives or junior colleagues during the Lunar New Year. Based on the Chinese lunar calendar, this holiday is the most anticipated event of a lively period known as the Spring Festival. The red envelopes used for yasui qian are known by a number of names that vary depending on region. For example, these packets are referred to as lai see in Cantonese, hang baou in Mandarin and ang pao in Taiwanese.

Similarly, red envelopes (called lì xì) are used in Vietnam to present money during the country's Lunar New Year's celebration known as Tet Nguyen Dan, or Tet. This occasion also marks the time when children and others celebrate turning a year older, since, according to Vietnamese tradition, individual birthdays are not celebrated. Because of this unique practice, li xi is considered a New Year's gift as well as a "birthday" present.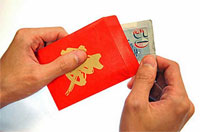 Red envelopes called ang pow are also given for Lunar New Year's celebrations in other Chinese-influenced countries, including Thailand, Malaysia and Singapore. In Myanmar (or Burma), these packets are called an pao by the country's Burmese-Chinese population.
In addition to New Year's celebrations, red envelopes are also presented in China, Taiwan and other Asian countries as gifts for special occasions like weddings.
It is common practice for wedding guests in Taiwan and China to give red envelopes enclosed with enough money to cover the costs of their reception dinner, and, if possible, extra funds to assist the bride and groom with banquet or related expenses.
In keeping with this time-honored tradition, the newlyweds are presented with red envelopes at their wedding reception. The packets are opened onsite by a designated attendant who also records the names of the guests and amount of their gift. According to custom, those unmarried guests who later hold weddings of their own may expect to receive red envelopes with slightly more money from the couple than what was initially given to them.

In China, birthdays are another occasion to give and receive red envelopes. These packets usually contain a more modest amount of money compared to those presented at weddings, since the latter is typically regarded as a higher profile event.
Along with the nature of a specific gift-giving occasion, the amount of money included in a red envelope is often influenced by traditional beliefs surrounding the auspicious or lucky quality of certain numbers. Even numbers, particularly 168 and 88, are considered prosperous; however, the number four (and any figures containing the number) are carefully avoided. Since the pronunciation of the word four sounds similar to that of the word for death, the number is customarily regarded as unlucky among Chinese, Japanese and Korean cultures.

With Mrs. Lin's festive assortment of authentic red envelopes, you can practice the ancient tradition of giving money-filled packets for New Year's, birthdays or weddings. In addition, you can use these exotic money holders to develop your own gift-giving tradition for any occasion!
Our versatile 40-pack Big Fortune red envelope set is a convenient way to present multiple gift packets for holidays, graduations, birthdays, weddings, house warming parties, new business openings and more! Each envelope is decorated with gold colored Chinese characters that translate to the phrase "big fortune." As a striking complement to the simple yet bold design of these symbols, these packets also portray a pair of elegant koi fish swimming in a stream filled with aquatic plants and flowers.

For specific celebrations, choose our set of six Special Message Coin Decorated Red Envelopes. Each envelope features a lovely gold colored octagonal shape with a hollow square center, complete with an attached Chinese coin displaying a classic burnished finish. In addition to this traditional design, each individually decorated packet displays a different greeting, including well-wishes for New Year's and words promoting good fortunes and safe seasons.
From the Qing Dynasty to today, auspicious red packets mark the arrival of joyous celebrations throughout many Eastern and Southeast Asian countries. Mrs. Lin's is pleased to continue this unique tradition by offering a series of genuine red envelopes in convenient multi-pack assortments. Use these red packets to add a decorative Asian design to your gift wrap presentation, or share the time-honored custom of giving red envelopes to friends, family, colleagues and associates.
OUR 2011 NEWSLETTERS
Red Envelopes: Asia's Ancient and Auspicious Gift-Giving Tradition

NEWSLETTER ARCHIVES

2012
2011
2009

2008

2007

2006

2005

2004

2003

2002

2001


MAY WE SUGGEST:
Special Message Coin Decorated Red Gift Envelopes (7299)

"Big Fortune" red envelope set (7298)