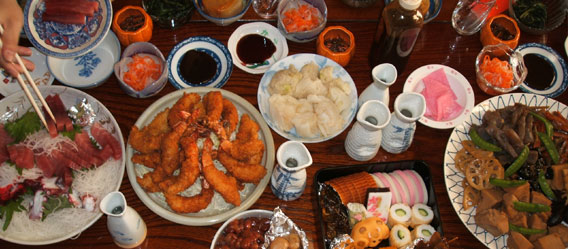 A continuation of last month's newsletter, this month, we travel into Japan and Korea to look at their variety of alcohol and take a look at other notable alcoholic beverages produced from the Asian continent. Be prepared to be find out more about well-loved and popular Japanese and Korean alcohol and other lesser-known Asian alcoholic beverages that may surprise and astonish you.
Japanese Alcohol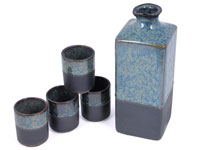 If we were playing a drinking game right now, and you were asked to name the first type of Japanese alcohol that comes to mind, the answer that would come up for many would be: sake. And indeed, sake is a well-loved alcohol and big part of Japanese alcohol culture. Fermented from rice, sake is usually served in small sake cups and can be served either chilled or hot. Usually high grade sake is served chilled so that its flavor is not lost in the heating process.
Although sake is a familiar drink that most have heard and tasted, understanding all the different kinds, variations and treatment of sake can take a life time of learning because sake is a rich and varied world of different tastes, flavors, production processes and treatment.
Follow us on our journey and you may be surprised by what you will discover about Japanese sake.
It may be surprising for many to discover that the sake that they drink may in fact not produced within Japan, but produced in the U.S. Both Ozeki sake and Geikkeikan sake have breweries in the U.S, and one should be aware of the fact that Ozeki and Geikkeikan have domestic (U.S) variations as well as imported (Japan produced) variations.
The name Ozeki sake originates from the sport of Sumo wrestling. Traditionally, in ancient Japan, fighters would gather to wrestle each other and the strongest of them who emerged the victor would be given the honorable title of "Ozeki". Under the brand of Ozeki, there are a variety of different sakes each with its own distinct characters and would pair well with different kinds of food. Depending of what you may choose for dinner, you may want to consider the different kinds of sake Ozeki offers for the best complement for your meal.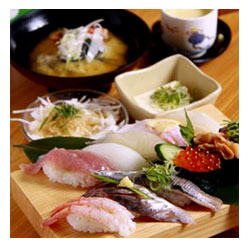 Ozeki classic sake goes well with grilled meats as well as full flavored sushi like tuna and salmon. It is also fantastic with tempura dishes. While, Ozeki dry is lighter with a more delicate and fruity flavor. It is an excellent complement to salad, sashimi and light dishes. Ozeki Nigori, the unfiltered version, with its rich, creamy and fruity is best enjoyed with spicy dishes.
Geikkeikan, meaning crown of laurel, was originally established in Fushimi province of Japan, known of its high quality water. What one should know when one drinks Geikkeikan sake is that Geikkeikan has established a brewery in the U.S in Folsom, California. Hence it would be useful to know that there is in fact two version of Geikkeikan sake in the U.S, one an imported version and the other a locally produced U.S version. Like Ozeki sake, Geikkeikan offers a variety for wine lovers to choose from. What is unique about Geikkeikan sake is that they are left to age for six months after the brewing process so that it can mature and attain its unique flavor. This is the reason why many reviewers enjoy Geikkeikan. It offers a wine like flavor and is a favorite for many.
Sho chiku bai sake is yet another familiar sake brand that many would know. Its name literally translates into pine bamboo plum, three of the most beloved plants in Japan. Like its name, sho chiku bai sake is a traditional sake that is charming with mildly seasoned dishes. Smooth, well balanced and full-bodied, it is the choice alcohol for many also because of its versatility.
Yet another popular sake brand is Kubota sake. Just a little research online will yield the fact that Kubota is a deeply loved sake brand among the wine critics. Reviewers often give Kubota sake shimmering reviews because it is in fact one of the very first successful brands of fine sake on the market. Kubota sake comes from the Niigata prefecture of Western Japan and is the most well known fine sake in the world.
One critic lovingly describes his experience of Kubota Manju: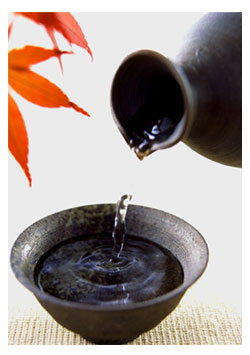 Colorless in the glass, this sake has a nose of cedar trees and fresh rainwater, with hints of dried orange peel aromas. In the mouth it is smooth and silky, with a beautiful weight on the tongue and a perfect dry balance that allows flavors of tuberose and orange blossom to mingle with hints of cedar and wet stone that leave the palate feeling alive and refreshed. Outstanding.
Whatever your style when it comes to sake, with the wide variety and range of flavors, you will be sure to find your favorite. Browse our sake set selection to pick out a delightful sake set to serve your favorite type of sake.
Shochu
While sake may take the center stage when it comes to Japanese alcohol, one should not forget the equally well-loved shochu. Originating from the Southern regions of Japan. It range of variety rivals sake, and the flavors it offers is just as exciting. Below are a few kinds of shochu you might want to try out the next time you visit a Japanese restaurant.
Rice shochu: Made from rice, it has a thick taste and is believed to have originated from places that are too warm in climate to produce sake. Mostly produced in the Southern regions of Japan.
Barley shochu: Distilled from barley, it has a light flavor and is said to be "easy to drink."
Potato shochu: Produced in Southern Kyushu since the Edo period, potato shochu is distilled from sweet potatoes and has a strong and sweet flavor that is distinctive. Some have said that it has a smoke taste and is reminiscent of whisky.
Brown sugar shochu: Originating from the Amami Island since Edo period, this kind of shochu is a result of a shortage of rice during the war years and under American occupation. Contrary to expectations, brown sugar shochu is not sweet and has a mild flavor.
Soba shochu: A mild shochu distilled from buckwheat and is a relative young shochu having only been produced since 1973.
Awamori: Using rice as the main raw ingredient, awamori differs from rice shochu in that it uses long grained Thai rice instead of the shorter, round bodied Japanese rice. The way awamori is produced requires a lot of citric acid making it a shochu that can be produced year round in Okinawa regardless of the climate.
Japanese Beer: Historically, beer only appeared in Japan beginning in the Edo period with the arrival of Dutch beer halls brought to Japan by sailors. Today, beer is one of the most popular drinks in Japan. And Japanese beer is known world wide for their light flavors. Some well known beer brands include: Asahi, Kirin, Sapporo, Suntory, and Orion. For ideas of great finger food to go with refreshing Japanese beer, our cookbook section offers a variety of ideas.
Korean Alcohol
While Korean Beers may not be as well known as Japanese beers, they are in fact just as fun when you are considering having a night of drinking with friends and some finger food. Why not cook up your favorite Asian tapas dish and pick up some Korean beer the next time you plan a boys' or girls' night in.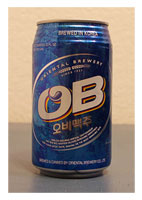 OB, or Oriental Brewery, was established in 1959 in South Korea. Today it is the fourth best selling beer in the country, rivaling other international beer brands. Unlike the usual ingredients of malt and barley that most of us in the West are familiar with, OB is brewed from rice. Most reviewers like OB because of its light taste and its easy to drink qualities. Many love its high quality, light taste and suggest pairing it with spicy Korean dishes.
OB also produces another popular Korean beer, Cafri. One of the lightest mainstream beers, it is popular according to critics for the lightweight drinkers.
Hite, is the number one best selling beer in Korea. Styled after traditional European and American beers, Hite is brewed from barley, malt and rice. Like Ob beers, Hite is also a light beer that many compare to Corona. Popular and easy on the palate, Hite beer goes well with just about any dish.
But beyond Korean beer, the following are other options for anyone curious about the world of Korean alcohol and what it seeks to offer. Below are some Korean wines that the adventurous may want to try:
Cheongju: Similar to Japanese sake, cheongju is a clear rice alcohol. Its name literally means "clear wine".
Soju: One of the most popular Korean alcoholic beverages, soju is distilled from grains and sweet potatoes and has a sweet taste. It is also an inexpensive alcohol. With 20% in alcohol content, soju is well loved and is also often used to create cocktails.
Takju: Made from rice, this is another sweet alcohol that is off-white and milk in appearance. It is so thick that it is often eaten with a spoon.
Fruit Wines: Korea has a variety of fruit wines, usually produced through combining fruits and berries with alcohol. One of the most popularly used fruit is the maesil plum. Chinese quince, cherries, pine fruits are also commonly used. Bokbunja—Korean black raspberries is used to produce Bokbunja ju that is said to good for sexual stamina.

Flower Wines: Korea also has flower wines created from flowers including chrysanthemum, acacia, maesil blossoms, honeysuckle, wild roses and sweet briar. An interesting variety known as baekhwaju is made from a hundred kind flowers.
Medicinal Wines: Combining alcohol with medicinal seeds, herbs and roots, Korea also has a wide variety of medicinal wines all of which have health and therapeutic effect on consumption.
Other Notable Asian Alcohol
For our newsletter, we have focused mostly on the East Asian countries and their variety of alcohol. Like the Asian continent, Asian alcohol is just as rich and varied in style, taste and tradition. Many other forms of Asian alcohol exists that we are unable to delve into in the space of our newsletter. But we hope this newsletter opens up the options for all the wine and alcohol aficionados out there. And as the Japanese like to say in toast to one another, "Kanpai!" Happy drinking!