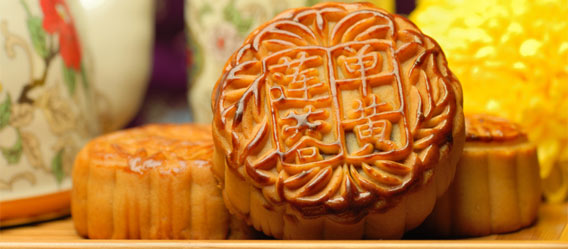 The Moon Festival is one of the most celebrated holidays among people of Chinese decent around the globe. As rich in tradition as it is in colors and tastes, the Moon Festival has a long history of folklore, family, food, and of course, festivities!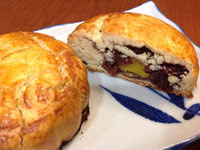 Dating back thousands of years, the Moon Festival is observed on the 15th day of the eighth month on the lunar calendar, near the autumn equinox of the Christian based calendar. During this period, the moon is believed to be at its brightest, harking back to the ancient myth of Chang O, the Moon Goddess. In various Asian cultures, mythology plays a crucial role in the reproduction of culture and tradition. Folklore centered on the moon and its strong ties to water have always been a popular theme. For centuries, people have believed what has now been proven to be true; that the moon regulates the ocean tides, menstruation, fertility, and the richness of soil. The moon's role in plentiful harvests is acknowledged during the fall season from the West to the Far East. Chinese cosmology also associates the moon with the female symbol, or yin. During ancient Mid-Autumn Moon Festivals, women were the center of the celebration, as men were not allowed to take part in the ceremonies. Each house set up its own altar where women gathered to make offerings of fruit, candles, flowers, incense, and moon cakes.
Today, while families gather to relax, listen to music, and eat moon cakes, the story of Chang O and her husband is often told to children to remind them of the fascinating history the Moon Festival possesses. According to the legend, there was once a renowned archer, Hou Yi, who was often called upon to kill some of man's most treacherous enemies. Hou Yi was married to Chang O, a beautiful woman with undying curiosity who had already seen much of the world at an early age, as she was once an attendant of the Queen of England. At this time, there were 10 suns that circled the earth. Each sun revolved around the Earth for one day, and then retreated for nine days. One momentous day, all 10 suns circled the Earth at the same time, causing the Earth's exterior to burn.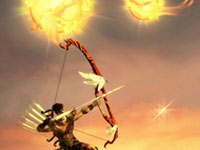 China's astute Emperor knew this was an enormous threat to his people, and called upon Hou Yi to slay all but one of the suns. As a reward for his bravery and great achievement, Hou Yi was given a small pill that contained the recipe for everlasting life. Upon acceptance of the pill, the Emperor warned Hou Yi to cleanse his soul with prayer and fasting before swallowing the pill. Hou Yi took the Emperor's advice and concealed the pill under a rafter in his home while he started the long process of healing his spirit and mortal soul. While he was deep in prayer and meditation, the emperor sent for Hou Yi yet again. During her husband's absence, Chang O came home only to find a glowing white light calling to her from the rafter. As she approached the light and a sweet fragrance that seemed to be coming from it, she found the pill and swallowed it immediately. Upon ingestion, Chang O discovered her new ability to fly. At that precise moment, Hou Yi came back home only to quickly realize what had happened. As he started to scold Chang O, she flew out the window and rose into the sky. Hou Yi followed her halfway across the sky with his bow and arrow. Ultimately, he fell back down to Earth and never caught Chang O, who flew to the moon. Once she reached there, she was so out of breath that she coughed up part of the pill, which fell from her mouth. Because she never consumed the entire pill, Chang O is still unable to fly back to her home and her husband. Once a year, Hou Yi leaves his new home on the sun and visits Chang O, causing the moon to light up. Incidentally, Chang O and Hou Yi have also come to represent Yin (the symbol for women and the moon) and Yang (the sun and male symbol), respectively.
Other variations of the legend continue to circulate, where Chang O was once an attendant to the Jade Emperor. After breaking a valuable porcelain vase, the Emperor was so angered by Chang O's clumsiness that he expelled her from his palace in the sky and sent her to live as a commoner on Earth. In China, she became friends with a famous archer, Hou Yi, who was soon called upon to destroy nine of the ten suns that began to circulate the Earth and wreak havoc. After doing so, Hou Yi became King and married Chang O. However, as time passed Hou Yi slowly became obsessed with the idea of immortality. As King, he ordered an elixir that would give him everlasting life. When the elixir was finally completed, Chang O discovered it and swallowed it immediately. Angered by his wife's action, Hou Yi chased Chang O, who was forced to jump from a tower to escape her husband's wrath. Instead of plummeting to her death, Chang O flew to the moon, dodging the arrows her husband shot at her. Frustrated with his wife, Hou Yi left Earth and built a palace on the one remaining sun. Upon her arrival on the moon, Chang O was transformed into a three-legged toad whose only companions were a rabbit and a woodchuck. To this day, the woodchuck spends his days trying to cut down the cassia tree, or tree of life, only to find that the tree grows back every night. The image of the woodchuck and the cassia tree are very popular in Chinese culture, as they have come to symbolize mortality on Earth. While the tree is constantly cut down, new roots and limbs grow, signifying rebirth and the lifecycle.
Along with family and friends, moon cakes play a crucial role in the celebration of the Moon Festival. As far back as the Yuan dynasty (1280-1368 AD), moon cakes were used to incite a revolution against the Mongolians. A leader for the underground Han rebellion, Liu Fu Tong, formulated a plan to instigate a Han uprising against the Mongols and the tyrannical Yuan Empire. Tong got permission from Mongolian officers to give small gifts to fellow Hans as a token to honor the long life and good luck of the Yuan emperor. Tong and his fellow rebels baked hundreds of moon cakes, filling them all with a strip of paper displaying the date the Han underground planned to revolt against the Mongols. The date Tong planned to riot was on the fifteenth night of the eighth lunar month. When everyone received their moon cakes, they found the secret date printed. What emerged was a historical uprising of great magnitude that brought an end to the oppressive Yuan dynasty led by the Mongols. Since that fateful day, Chinese communities all over the world have eaten homemade moon cakes every year during the Moon Festival.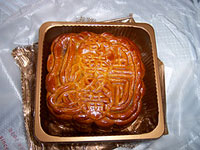 With a recent rise in the number of Asian grocery stores, you too can now easily gather the ingredients to make your own moon cakes. The first step to making moon cakes is gathering the ingredients. For the dough, measure 4 cups of flour, ½ teaspoon salt, ½ cup non-fat dehydrated milk powder, ½ cup solid shortening that has already been melted and cooled, 3 eggs, 3 teaspoons baking soda, 1 lightly beaten egg yolk, and 1 cup granulated sugar. Separately, finely chop ¼ cup of walnuts and set aside 1 17 ½ oz. can of lotus seed paste. To make 24 moon cakes, you will also need a small press or cookie cutter, preferably moon shaped, and one separated egg yolk. Depending on your personal taste and availability of items in your area, you may substitute sweet nuts, mashed red beans, Chinese dates, or cooked egg yolks instead of lotus seed paste.
To begin, preheat the oven to 375 degrees F. Then, mix together the chopped walnuts and lotus seed paste in a small bowl. Next, sift together the dehydrated milk, flour, baking powder, and salt into another bowl and set aside. With an electric mixer, beat the eggs together on a medium speed until they appear to be light and lemon colored. Add the sugar and beat for an additional 10 minutes. Next, add the melted shortening to the eggs and sugar, and mix gently. Using a spatula, fold in the sifted flour mixture. Place the freshly made dough on a slightly floured surface, and knead for at least one minute, or until its texture is smooth. Roll the dough into two equally sized logs, and cut each log into 12 equal pieces.
To begin the decorative process, roll each piece of dough into a ball and flatten it onto a lightly floured surface. Each flattened piece should be approximately 1/8 inch thick. Put 1 teaspoon of the lotus seed paste mixture in the center of each flattened cake, and fold together the sides of the dough to tightly enclose its filling. Lightly brush the inside of your moon shaped mold with flour and place press each moon cake inside, seam facing up, to shape. Once each piece of dough has been properly shaped, place all 24 pieces on an ungreased baking sheet and brush the tops lightly with an egg yolk. Bake for approximately 30 minutes or until golden brown and cool before serving.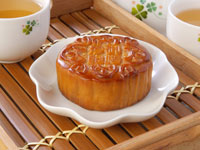 This year, the official date of the Moon Festival falls on Monday, October 1st. Celebrations, parades, and festivals will take place across the globe, making it an international holiday. Some metropolitan cities across the United States will be sponsoring fairs with arts and crafts activities for children, processions with lion dancers and dragons, live music, and food and drink. If you can't make it to one of these festivals, why not celebrate the special women in your life by throwing your own get-together? A quick trip to your local grocery store and Asian market will get you all the supplies you need for baking moon cakes. After that, let Mrs. Lin's Kitchen do the rest! We've got the perfect accessories for your party, whether you're serving Chinese take-out with your freshly baked moon cakes, or cooking something yourself.
OUR 2001 NEWSLETTERS

One Pot Meal

The Emperor's Old Clothes

Full Steam Ahead: Air Pots are
Here to Stay!

Moon Cake and Moon Cake Festival

Sake Bombs Away!

Folding Fun with Origami

Yummy Sushi For Your Tummy

Rice Cookers can Cook

Mochi

Chopsticks: A History and How to Use Chopsticks

Yixing Teaware

Hot Pot Anyone?

NEWSLETTER ARCHIVES

2011
2010