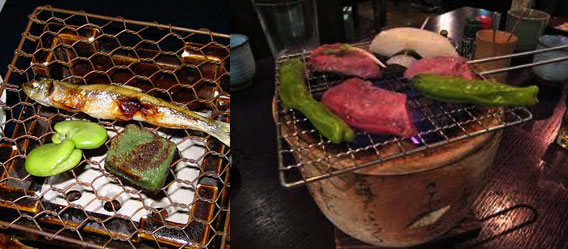 The hibachi is a Japanese cast-iron charcoal grill, used both indoors and out for barbequing and cooking. The word "hibachi" translates to "fire box" or "fire bowl." While given a Japanese name, the origin is believed to be Chinese. The original hibachi was not a grill at all, but used as a heat source. This portable burner has been used for centuries to warm the home, cook food, and keep tea hot. Just like the stove or fireplace, the hibachi was a central place where family could gather together.

Hibachis come in a variety of shapes, sizes, and materials. They can be round, rectangular, or oval. One type of traditional round hibachi is designed so that a pile of charcoals lies in the center, surrounded by ash in the shape of a crater. This is meant to resemble the fires of the great Mt. Fuji. While the smallest hibachis are tiny burners made for individual use, they range in size up to double-grills that are twenty-four by twelve inches, comparable to an American barbeque grill. Most hibachis are made from black cast-iron, but some are made from ceramic or porcelain. In the past, hibachis have been crafted from exotic woods like pagoda or mulberry, or even bronze. While traditional grills use charcoal, there are some modern models that use gas.

Despite differences in style and material, each type of hibachi is made up of the same main components: the grill, the grate, and the draft door. The grill, where hood is prepared, has handles. This allows the grill to be removed when you start your fire or adjust the firebed, as well as for cleaning purposes. The removable grate, lying three to four inches below the grill, is where the charcoal is held. Kindling and paper are placed in the bottom of the hibachi to get the fire going. This is where the ashes of the fire end up and where the draft door sits. By opening this vent, you can let air into the hibachi and control the temperature of fire.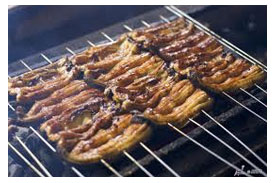 Hibachis have a wide variety of traditional and nontraditional uses. They can be used to roast nuts, prepare appetizers and grilled dishes (yakimono) from meat, rice cakes, or vegetables, and even make desserts. They can also be used as a stove for stir fry dishes or "nabe," one-pot, cooking. It is important to note, however, that hibachis should not be used to prepare an entire meal, or meats that are high in fat or have a long cooking time.
While the hibachi is a grill, this does not mean that it can only be used outdoors. In Japanese culture, grilling is often done inside, even tableside. Always make sure to allow for proper ventilation.
When cooking seafood, meat, or poultry, it is important to obey certain rules to ensure that your meal comes out right. When cooking fish, it is best if it is fresh. It is also important to be sure the fire is not too hot; if overcooked, your fish could turn out dry. To avoid this, baste often and wrap in wet cornhusks or aluminum foil. For beef, the more tender, the better. If your recipe calls for thin strips, trim your beef and then freeze it. A sharp knife will be able to cut through it easily. Leg of lamb is best for cooking on skewers. Loin chops are better for grilling. Be sure to cook pork thoroughly; it should be white when done. Poultry requires more grilling time than seafood, fish, or other meats. Like fish, it should be basted often. If you marinade your chicken with wine, vinegar, or lemon juice, it will help tenderize the meat. When adding sauce, wait until ten to fifteen minutes before cooking is done, as it can char.
The hibachi can also be used to grill fruits such as bananas or apricots for a variety of delicious desserts. Be sure to clean the grill well when transitioning between meat and fruit.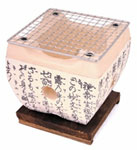 If you think you're ready to own your own hibachi, look no further. Our cast-iron Hibachi Grill is stylish and durable. Or try our Shabu Shabu/Hibachi Grill Base, perfect if you are grilling for two. While you're shopping, be sure to browse our excellent selection of cookbooks for Asian recipes you can make at home.
Get a head start with the hibachi grill recipes below (from Honorable Hibachi):
Oriental Shrimp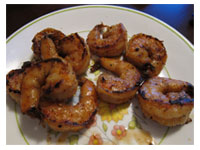 1 lb. shrimp, cleaned
1/3 cup soy sauce
¼ cup sesame oil
1 Tbsp. brown sugar
1 Tbsp. finely chopped fresh ginger root or ¾ tsp. powdered ginger
3 scallions, including some of the green, chopped fine
Combine all ingredients and marinate 3 to 4 hours in the refrigerator.
Drain the shrimp, reserving the marinade.
Skewer and grill them over a medium bed of coals 5 to 6 minutes, turning, and basting frequently with marinade.
Japanese Broiled Chicken (Yakitori)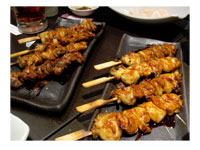 2 whole chicken breasts
6 scallions
Cayenne pepper

Sauce:
½ cup shoyu or soy sauce
½ cup sake (rice wine) or sherry or vermouth
2 Tbsp. brown sugar
1 tsp. Pressed fresh ginger root or ½ tsp. powdered ginger

Split, skin, and bone chicken breasts and cut into ¾-inch squares. Clean scallions and cut into ¾-inch lengths.
On well-soaked bamboo skewers, alternate chicken and scallion pieces.
Combine shoyu, wine, brown sugar, and ginger, and pout over skewered chicken and scallions in a deep platter. Marinate at least 1 hour, turning occasionally.
Set oiled grill at level highest from glowing charcoal bed. Lift skewers from marinade and drain excess. Grill for 10 to 12 minutes, removing from heat 3 or 4 times to roll in marinade.

Remove from coals, sprinkle lightly with a little cayenne pepper. If desired, marinade can be used as a dip.
OUR 2007 NEWSLETTERS

Celebrating New Year's Day In Japan

Holiday Gift: The 2007 Way

Chinese Holidays

The Enlightening Truth

Asian Symbolism

Noodles: Asian Fast Food

Asian Vegetables

Weddings and Marriage in Japan

Bento: The Japanese Lunchbox

Tools of Asian Cooking: The Hibachi Grill

How to Make the Perfect Fried Rice

Asian Desserts: The Tastes and Textures of Japanese and Chinese Sweets


NEWSLETTER ARCHIVES

2011

2010

2009

2008

2007

2006

2005

2004

2003

2002

2001


MAY WE SUGGEST:

Large Beige Shabu Shabu/Hibachi Grill Base (6132)

Shabu Shabu/ Hibachi Grill Base (6031)

Bamboo Skewers - Medium (6108)